Jane Ruffino is a content designer and UX writer with more than two decades of experience when it comes to using words to make digital experiences better for users.
Over the course of her career to date, she's been a journalist, lecturer, documentary producer, marketer, product designer, UX writer and content strategist. Perhaps most surprising of all though, is that Jane is actually an archaeologist.
We caught up with Jane about setting up a content design consultancy, her approach to teaching UX writing, and why having two jobs in two different fields does actually allows one to compliment the other, and in many interesting ways!
As always, there are some great insights and takeaways to be found below; whether you're just 'cutting your teeth' in a UX role, your'e an established UX writer with many years of hands-on experience, or just someone looking to learn more about what it might be like to study UX as a discipline.
Career history, at-a-glance:
Berghs School of Communication

Course Director: UX Writing

December 2019 - present

Sodertorn University

Doctoral Researcher

September 2019 - present

Character

Content Designer

June 2019 - present

Self-employed

Content Designer and UX Writer

June 2019 - present

Daresay

Content Designer and UX Writer

August 2017 - March 2019 (1 year, 8 months)

Freelance

Journalist and Researcher

2004 - 2018 (14 years)

Digital Skills Academy

Lecturer in Content Strategy and Communications

2010 - 2014 (4 years)
Working in UX and content - and archaeology
Jane began her career in content as a course designer for web content strategy courses, eventually moving into working for different agencies as a freelancer.
She started a role as a UX writer at a digital agency in 2017.
What does a UX writer do?
A UX writer's goal is to write functional text in plain language to guide users through different digital experiences found on a website or app. They make these experiences seamless and intuitive. And, even though there is some overlap with other disciplines such as content strategy and UX research, UX writers have a narrower, more specialised focus on creating content for users of digital products.
Jane told us that she was actually really slow to call herself a 'UX writer'.
"I didn't start calling myself a UX writer until maybe four years ago. I still see myself as a content strategist. I think it's because I've always crossed different crafts, back and forth. I would call myself a content strategist all the time if it weren't for the fact that I work in a market that always associates that with marketing. To me, that's not 'my kind' of strategy.

"At one time, I felt really 'trapped' in the marketing side, but it was the only place for a content person like me. I don't come from development, so I didn't have an easy route into technical writing - but I think I would have preferred that. It actually would have suited my archaeology background better."
Jane says that she still uses her archaeology training every day.
"I've been an archaeologist for 23 years and that's 50% of my job right now; I'm a PhD researcher in archaeology. There's sort of two pieces of it; one is that I don't consider them to be different things, and the other piece of it is I don't care if they are. For me, I think that it has to be ok to have these two different things that you do.

"I did go through a phase of asking myself whether I should only be 'this' rather than 'this' and 'that', but not doing both doesn't work for me. I'm really happy to slip between registers in this way."
She considers there to be many similarities between how you work in archaeology and how you work in UX and in content. Jane describes it as "bringing the relationship between people alive through 'things.'"
"It's about mediating the relationship between people, and it's understanding how things operate in that environment. So whether it's language, whether it's pottery, whether it's a building, that's the mindset I have.

"I've returned to it now as a PhD researcher, and right now, I'm looking at the archaeology of the internet. But I actually started my PhD 20 years ago on manuscript maps in the 16th century, which sounds like it's nothing to do with content, but it is entirely to do with content. It was on the archaeology of designed landscapes, and so what I was really interested in is how do we create design and then hope that human beings will achieve what we wanted with the design.

"And that was what my PhD research was on - the plantation of Ireland. The British went in and they were like, 'we're going to divide up the landscape and make everything like this. And then people will behave in this way.'

"Working on my archaeology PhD really gave me that 'designer mindset'; except it was a very critical one, because when I came into design, I already knew that people had been trying to 'design behaviour' for like 500 years already, and it had never worked.

"So, I ended up using maps in my studies, and it was very interesting because it was like the British kept thinking, 'if I draw a better map, the results will be better', and that is very much how we work in design.

"An example is that I'm working on a project for a fashion company right now, and I have to figure out how to standardize the language that they use to describe things. Everything I'm doing is using almost 'artefact description' sheets from an excavation; it's like trying to piece together a site from an excavation. And one person calls this pottery 'blue', whilst another person calls it 'green', and it takes you a long time to realize they're actually the same pot.

"I think it's a misunderstanding that archaeology is about 'digging stuff up' rather than about 'looking at things and observing them'. In a design context, I take that step back and I describe what I'm looking at in every way I can think of. It forces me to radically notice things. And that, to me, is the essence of design.

"I feel that maybe if we can be more focused on the physicality and the materiality of what we do, maybe we will be more careful and more cautious about what we create - and also more cautious about what we decide to keep. I'm very much an archaeologist that doesn't believe we need to keep everything!"
Jane is a disciplined and creative thinker who is never satisfied with guesses or easy answers. She wants to know "why?" and she wants to know "how do we make it better?". Her academic background and research skills mean that not only does she demand the answers, she knows how to get them. From analysis, research and user-testing, to thinking and prototyping, she is great at uncovering critical insights and communicating the findings to everyone on the team so that the research drives real world results. It's always fun to work with Jane and you always know way more at the end of a project with Jane than you did when you started.
source:
LinkedIn
Creating the Character agency
Jane started Character, a content design consultancy (with another writer) in the summer of 2019. After her co-founder took up a full-time position elsewhere, Jane kept the brand, as she found it really useful as a distinguisher between her content work and her research work.
"Because I had restarted my PhD (after a 13-year gap), it was a nice way for me to partition those two worlds for myself.

"I still really just work under my own name, but it just gave me a brand to work with. If at some point I want to bring in a visual designer, or a partner of some kind, then it helps for them to work with Character and not just with me. Essentially though, it's quite an 'informal' brand.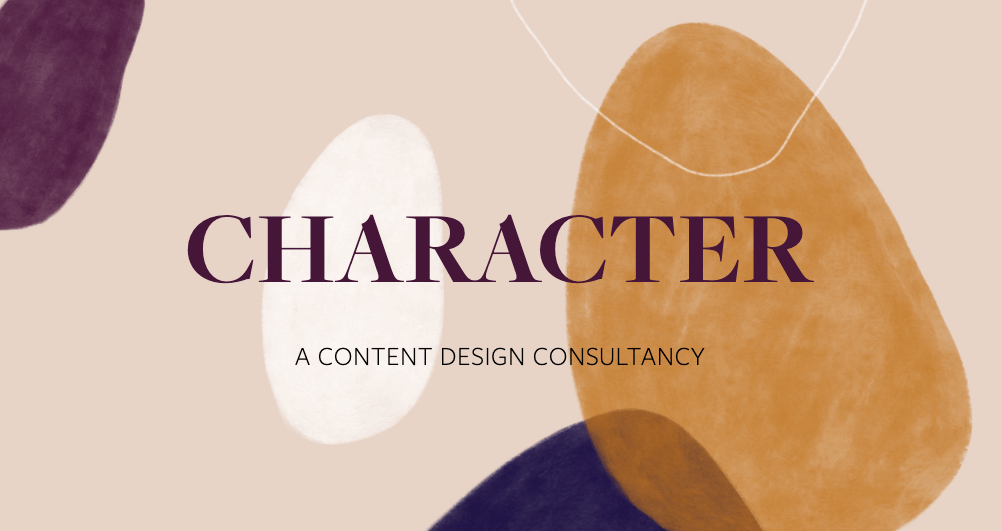 "Having a consultancy for me has been a really great way for me to avoid having to get overly invested in somebody else's workplace culture. But it also means I have to put more into building my own network - because otherwise, I'm all by myself."
Working with Jane has been a pleasure. She combines smartness with humour and is strategically organised in how to run a project. Together we did a lot of big thinking and project organising and even though we overlap a lot in what we do, I constantly learned new things and metods to work with. She has no prestige, is honest and always wants the be for the team. I hope I get to work with her again some day!
source:
LinkedIn
The 'ups and downs' of client engagements
Jane described how she 'weigh ups' whether to work for a particular client or not. She also went into more detail about a couple of client projects she'd previously been engaged with.
"I think one of the most important things you can do before you start a project for a client is to ascertain how mature that client is. How ready are they for you? And how ready are they for someone to tell them that content goes beyond just words?

"Will they respond in the right way if you ask for more information, or will they be a client who possibly won't want to give it to you because they're like, 'no, just sit in the corner and write'. So, you need to decide whether you want to work for this client enough that you're prepared to put up with just sitting in the corner and writing.

"I think it's also ok to recognise that you might have a 'bad feeling' about a client, right at the start.
Jane recalls that she had one particular client engagement where they wanted her to do things that just weren't ok in her view. They wanted her to do things that she didn't think were very ethical, so she tried hard to work with the product team in order to show the CEO that what they were trying to do was not the best approach.
"I lost the battle. And I was 'just a consultant', so, you know, I kind of spent a lot of my consultant capital trying to fight this one battle, but in the end, I stopped working for the client. Luckily, I could afford to do that.

"Everyone in the company was actually very nice, but it just didn't work. I think they were at a point where the product needed a lot of revamping, but they were really afraid to change anything major. They knew they had to change to survive, but at the same time, they were afraid to change.

"So as the consultant, you sometimes have to accept that there are battles you can't win where they're not battles specifically about the content.

"I think it's really important to know when to stop working on something too. Like, you know what? This is taken enough of my emotional energy. At some point, you realise that you're not learning anything - instead, it's taking from you."
There are times where clients are really excellent to work with too of course, and Jane shared an example of this.
"I had a client, almost two years ago, who was like, 'I need a UX writer. I'm not sure what a UX writer is, but I think I need one'. And it turned out that the product it was for needed a total redesign, and the client was just awesome. She let us do the research we wanted to do. She let us make suggestions. She let us talk to the developer and be like, 'no, that's a bad idea'. She made the developers listen to us.

"It can all depend heavily on how much buy-in you have from above of course, and how many internal advocates you have - not for the outcomes, but for the work you're doing."
The projects Jane says she enjoys most are the ones that mix content, design, content strategy, and UX writing together.
"Another project I worked on was centred on a design system, and I'd never worked on a design system before. It was amazing. I really enjoy that kind of sense of 'how do we solve this problem together?' A lot of the developers didn't even really know what the designers did, so how do we build this design system?

"I got to work with a fantastic design team on that. They were a tiny design team in a developer/engineer-led organization, so there was this kind of 'little gang of misfits' mentality, and I really enjoyed that.

"There are definitely times when the work goes really well. And a lot of it is down to the day-to-day relationships you have with the people you're working with. It's not down to how good you are at using Figma, or how good you are at 'writing a button', it's down to making sure that the people that you're working with feel they can trust you to do stuff."
This lady can write! And think, analyse, strategise, craft and create. She knows the art of wordsmithery well. A storyteller of star quality, and a great speaker. But above all, she knows empathy like I've never seen before. Jane really gets people. And she will fight for the human in the tech world. So, if you need a sharp writer with valuable soft skills, balancing our the hard corners of tech and business in your company, you'd be lucky to get Jane on your team - or running your team. And she's really nice and great fun to work with.
source:
LinkedIn
Teaching UX Writing at Berghs School of Communication
Berghs is a well-established, respected educational institution in Sweden where Jane has been lecturing on UX writing for the past year and a half. She believes that they hold their own kind of philosophy there, based on looking at professional development in a more 'holistic' way.
"I mean, it's specific, but it's also looked at in a holistic way. Like, 'what do you need to know to tie all of your skills together and take the next step?' 'How do you make your world a little bit bigger?' 'What do you already have, and where do you want to go?'
Jane says that her course is designed to fit Bergh's specialisms, but that it's also very much a course that helps students find their own direction.
"I try to help my students build that foundation of understanding what they're already really good at, so that they can try to translate that knowledge into something else.

"One of the things I do, which I'm happy that I do, is to send a pre-recorded 30-minute introduction full of things new students can secretly Google before my class starts. That way, they don't feel like they're the only one who doesn't know things.

"A lot of times, I'll have people who have worked in communications for 20 years, for example, and they come in and they're like, 'I feel dumb'. And I'm like, 'there's no reason for you to feel that way'. Then it gets me thinking about how to help people to start the course by not feeling they can't do it?

"I want them to feel excited and enthusiastic, not 'dumb.' You can't learn that way. You can't take in information when you don't feel like you deserve to be there.

"My students are a mixture of people. Some will want to go on and get a job as a 'UX writer' straight away, some are already working as UX writers and they want to feel like they can tie their skills together, some of them are designers. It's really nice to have this mix of people."
Jane describes her teaching role as being like a 'facilitator' - she provides her students with all the information and the 'clues', but her students then have to take all this away and do the work and 'solve problems' on their own. Each week, Jane will ask them to complete a small assignment' one that helps them to develop more of a 'content mindset'.
"I like getting my students used to having to collect bits of content that are out 'in the wild' on the internet - getting them to build that. Again, it comes from being an archaeologist. You're looking at what you can find, and asking 'how did this come to be this way?'

"And I like showing them product content from a company like Slack, for example, where they are already really content focused; it's so integrated into their product. Then there's also examining bits of content where we might ask 'what went wrong here?' or 'what works well with this?' and so on."
Jane is an inspirational teacher and has a passion that is infectious. I have embarked into some related work with web design and writing content along with my partner Christina and I owe Jane a big thanks for her classes.
source:
LinkedIn
Advice, recommendations and tips from Jane
What advice would you give someone who is in their first year of working in UX, content strategy and/or content design?
"I was already established in another field when I came into content strategy. And I actually came into it through teaching because I was experienced at teaching already. I was also already working as a writer and as a producer. So I think the main thing is, where are your transferable skills? Because everybody has them, and to focusing on those mean they become your foundation; three or four things that you have under your belt already perhaps.

"Try to focus on things you enjoy working on too. For example, I enjoy doing user research, I enjoy making project plans, and I enjoy putting names/words on a design problem. Don't worry if they don't all join up, because what happens is you will start to find the places where these things do join together, and that's where you learn new things.

"So, start with what you know how to do, and go towards what you want to know how to do. That is the best piece of writing advice I've ever gotten (it was actually from a writer's workshop I went to with Colum McCann, the Irish author).

"Also, remember that the job isn't the work, and the words aren't the work. It's very hard therefore for people to know how to resource your work - it can take quite a long time for them to understand what you do, so I think do what you can to keep people's patience with you.

"On that note, I think people who do better than me are a little better at 'making nice' with authority, but I'm just not. I'm actually not proud of it at all; I don't think it's a good thing about me. But I've been a freelancer for 20 years, and so I'm like 'feral', I'm way too feral. 'Why am I doing this?' 'Why are you asking me to do this?' 'What a waste of time?' etc.

"I'm like a raccoon, and you can't keep a raccoon as a pet..."
If you could go back in time and give yourself a piece of advice early in your career, what would that be?
"Sometimes walking away is actually the best thing to do. Sometimes deciding 'this isn't your problem; that this is a problem someone has given you', and learning the difference between a problem that you own (because you have some investment in creating it) and a problem that someone has dumped on you, where actually, there's nothing you can do about this, drawing a line and walking way.

"I think that's probably the thing I wish that I was better at by now, because I would need way less anxiety support and I would get so much more done if that was the case. I'd probably have a hobby, or something!"
Which industry professionals should people be following right now on Twitter?
Allie Lindo
JM/US in SE | Startup nerd #malmostartups | Marketing, PR & comms | She/her | Likkle but tallawah | All thoughts my own | #StopAsianHate
Follow @AllieLindo
Gladys Diandoki
Enthusiastic French Content Designer --- Storyteller for a living and for fun — She/her #POCintech #feminism #uxwriting #Inclusion #antiracism #a11y ---
Follow @Gladysdit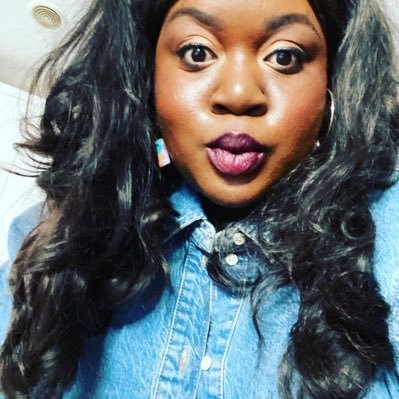 Candi Williams
Content Design Lead at @Bumble by day. Author by night. Fan of clear words, inclusive design, bold stationery, yoga, food and wine. #BlackLivesStillMatter
Follow @candiwrites
Hyatt Al-Shammari
content designer // UX writer // aerial acrobat monkey // pizza connoisseur // she/her
Follow @hyattalshammari
Andrea Othilie Rognan
I do all the words. Interested in plain language and content design, but you can talk to me about other stuff too (dogs).
Follow @AndreaOthilie
Nicole Michaelis
I tell stories and talk to myself on Twitter. Senior UX writer @spotifydesign. Course Director @Berghs. Published Poet. Host: contentrookiepod.com
Follow @nicoletellsit
Which books would you recommend to someone who's early in their content career?
Letting Go of the Words: Writing Web Content that Works (Interactive Technologies)
Web site design and development continues to become more sophisticated. An important part of this maturity originates with well-laid-out and well-written content. Ginny Redish is a world-renowned expert on information design and how to produce clear writing in plain language for the web. All of the invaluable information that she shared in the first edition is included with numerous new examples. New information on content strategy for web sites, search engine optimization (SEO), and social media make this once again the only book you need to own to optimize your writing for the web.
Ginny is just awesome.
— Jane Ruffino
What tips would you have for someone who may be working full-time, in-house right now and are thinking about starting their own consultancy?
"I think in the beginning you have to be willing to take work that's for the money to keep you going. You don't have to take things that 'will look good', and don't only work things for the money. Have a standard for yourself. I have a three-part thing for myself, and in order to take on work offered to me, it has to meet at least two out of the three criteria I've set for myself. There's money, there's learning and development and then there's the network. So 'will this helped me build my network?' or 'will this help my learning and development?' and so on.

"I think you have to decide what do you do and what don't you do. In the beginning, there might be times that you are going to do something that's going to go out of scope a little bit for you, but you have to decide where your boundary lies.

"For example, I won't write your blog posts anymore. It's just not what I do anymore, but it took me a long time to move away from that.

"And as you build your business, you don't have to put everything you've done, like it or not, on your website. You want to move away from the things you'd rather not be doing.

"Me, I'm not a big risk-taker. I can't afford to take big risks. I hate the whole 'I'm an entrepreneur taking big risks' narrative because that is a narrative of white men with money that's like, 'I just took the leap and I'm going to build my career on the way down.'

"And I'm like, 'I'm sorry, but I have a family of six that needs to be fed and housed. We cannot afford for me to take a leap and build my wings on the way down!'

"If somebody is looking to set up on their own, think about your goals and what you want to be like. Think about how you want to position yourself. Treat yourself like your own client, and be a good client to yourself."
Is there a particular site or product that you think does content particularly well?
"I actually use a lot of ASOS's content when I'm showing people examples of good practice, because even though there's some stuff that doesn't work so well, I think that you can find many examples of where they've successfully shown the 'intent' behind something.

"One example I remember and used to show to people is around how they rolled out GDPR to users. It was really well thought through."
Is there a particular course or workshop you'd recommend to others?
"I think if you've not got a solid background in design, definitely invest in a subscription with the Interaction Design Foundation. It's about $150 a year, and you can watch as many courses as you like. It helps you build your vocabulary, and what you will see is that although you might know a lot of the content already, they present it in a slightly different language.

"This will help you to understand more about what goes into the visual side of things, which in turn means that you'll be able to collaborate better with visual designers in future. The subscription is really worth it for that."
Jane Ruffino: Further reading, watching and listening
Miro Boards by Jane: