Patrick Stafford is a UX writer, content designer, content strategist, podcast host, blogger, career coach, and Co-Founder and COO of UX Content Collective (formerly known as UX Writers Collective).
That's a very long list(!), and we certainly had a lot to chat to Patrick about when we interviewed him recently. We spoke about everything from his time as a journalist and learning on the job, to becoming a COO of a fast-growing organization.
As always, we've included a shedload of tips, advice and insight, courtesy of our esteemed subject. Read on to find out how Patrick got started on his UX focused career, why collaboration and communication are so important in this field, and who he'd recommend following on Twitter...
Career history, at-a-glance
UX Content Collective

COO

November 2021 - Present

UX Content Collective

Co-Founder

August 2018 - Present

UX Content Collective

Co-CEO

January 2021 - November 2021 (11 months)

Writers of Silicon Valley

Creator and host

March 2019 - July 2021 (2 years, 4 months)

Stafford Content

Freelance Content Strategist/UX Writer/Content Designer

October 2015 - Present (6 years, 2 months)

MYOB

Lead Digital Copywriter

April 2020 - December 2020 (9 months)

MYOB

Senior Digitial Copywriter

September 2018 - April 2020 (1 year, 8 months)

MYOB

Digitial Copywriter

April 2015 - September 2018 (3 years, 6 months)

Various publications

Freelance Journalist

September 2011 - April 2020 (8 years, 8 months)

Academy Xi

Guest Instructor

October 2018 - November 2019 (1 year)

PwC Australia

Digital Producer

October 2013 - November 2014 (1 year, 2 months)

SmartCompany

Deputy Editor

December 2012 - October 2013 (11 months)

SmartCompany

Journalist

July 2008 - December 2012 (4 years, 6 months)
Early career
Patrick began his career when he entered the field of journalism, back in 2006. He tells us that he decided on this direction quite late on in high school after realising that he wanted to do something language-based.
Journalism was where he found himself gravitating to - over alternatives like linguistics or film and television - as he was attracted to the 'research/interviewing' aspect of a journalist's remit.
"I think I'm a good writer, but I'm not particularly outstanding. What I was interested in was really finding the truth behind something - through investigatory work. That's what I really enjoyed.

"I'd watched movies like All the President's Men, and I just thought it was so fascinating how the real work of journalism is all the stuff that comes before the writing.

"Journalism is a great lead into working in content design really, because so much of it is research-based.
Patrick spent two years studying for a Degree in Communications and Journalism at RMIT University (Melbourne, Australia). He regards his time there as valuable as it was a place where he could get practical, hands-on experience with producing broadcasts for community television and radio, as well as experience of print journalism - through researching, writing and then managing the design and layout of The City Journal - a newspaper publication produced exclusively by their journalism students.
"Sometimes people ask me, 'Should I go to journalism school?' And I always say, 'It really depends on the school'. If you can get that type of practical experience, as I did, then it's extremely worthwhile.

"If not, maybe try and find a way to get some practical experience, but I definitely found the particular course I did to be really helpful."
As part of Patrick's studies, there was a requirement to complete an internship - usually for an organization that was affiliated with the university. SmartCompany was one of those companies on the list, and Patrick made this his preference for a placement. He knew that it was an organization where journalism was digital rather than print-based.
"I knew that I didn't want to do print journalism, and in those days, online publications were still fairly new. So, I joined the SmartCompany publication.

"I think they agreed to hire me because they knew that I didn't know too much about 'business' - having never studied it or anything. And not too long after, I remember that Lehman Brothers collapsed. I obviously had no idea what that really meant(!), but I was really lucky to have a fantastic editor, James Thomson, and he really helped me during my time there.

"Before James worked at SmartCompany, he worked at a magazine called Business Review Weekly, which was a premier business publication back then. He had so much knowledge and so much context that he was a really great mentor for me about understanding things like how the reserve bank works, how interest rates work, and the relationship between the decisions that happen in boardrooms and the businesses that are on the street.

"He would put stuff on my desk and say, 'You should read this', and I would read it and try to understand it."
Patrick says that it was fantastic to be able to talk to thousands of business owners and financial services decision-makers during his time there. Referring to it as "a definite baptism of fire", he says he really enjoyed that period of his early career, and that it was a time of rapid professional growth for him.
"There are probably a couple of things that really helped accelerate this growth. Number one was attending the Federal Budget Lockups.

"In Australia, the way the Federal Budget works is that they take all of the journalists, fly them to Canberra, you get locked in Parliament House for seven hours - literally locked in. You get all the budget documents under an embargo. They're eventually released at 7.30pm that evening.

"It's kind of an old fashioned thing, but it is extremely hard because you go in there and you don't know what you're going to get. And then you have to write stories whilst you're actually in there.

"I remember thinking, 'How am I going to write stories that are basically just talking about press releases?' And I would look at my editor, James, and he would be able to put all of this context into his stories that he just had - because he'd be reading about this stuff every day. He'd be able to flesh out these stories with his knowledge.

"So doing that work every year was a really big leap for me."
Patrick recalls sitting in pitch meetings as his second example.
"We would have pitch meetings every day, but for a young journalist, they're kind of brutal meetings.

"We'd sit in a little circle, and I would have my 12 news story ideas for the day... but as I went through them, I wouldn't even be able to finish one idea. James would just be like, 'No'.

"Not even, 'Oh, could you tell me more about that one?' Just like, 'No. Next!'

"So, through that experience, I began to get a feel for what makes a good story and what doesn't. A big leap forward for me finally came when I'd had a day where most of my story ideas were deemed as good story ideas. That's when you start feeling like you've got the momentum, and that you really understand the role now.

"Then it just becomes about how to stretch yourself each day, by not just reporting on news, but also how you actually break news."
Patrick's first exposure to the UX discipline
In 2013, Patrick started a role as Digital Producer at PwC Australia. He described to us what it was like to work at a 'Big Four' organization (the other three being KPMG, Deloitte, and EY).
"I don't know if I'd be happy to work in an organization like a Big Four type of company again. In my experience (based on working in a particular division of PwC), I just didn't gel with the idea of having to kind of justify your existence all the time. Of course, in every job, you have the feeling that you need to be bringing something to the table, but at PWC there was definitely pressure to 'perform'. And although I wasn't a billable consultant or anything, I guess I still regarded myself as an 'internal' asset.

"Nevertheless, I still enjoyed a lot of my time there. My problem with PwC was always more about the culture than the job itself. I just didn't care for the somewhat stilted, old school way of doing things. And I would see a lot of people working a humungous number of hours, for what I perceived to be very little benefit.

"I know it's changed a lot since then though, and for me, I have to say it wasn't a hugely negative experience or anything - I just wouldn't necessarily choose to work for a big consultancy or agency like that again. And in many ways, it did prepare me for all the navigating you have to do around politics and personalities in an organization - when you're working in a design-related role."
Patrick says that there was one thing, in particular, that had been great about working for PwC. At the time, PwC's digital consultancy arm was acquiring two very small UX design companies in Melbourne. This would enable them to become an end-to-end consultancy. Their aspiration was to not only report on what UX work needed to be done to clients, but to also pair their clients with PwC's own UX teams so that those recommendations and ideas could be implemented in-house too.
"And that's how I got introduced to UX. I wasn't a formal part of a UX team at PwC, but I would sit with them, and sometimes offer advice to people about things like the copy in the apps they were working on.

"I would sometimes make comments like, 'Who's looking after this, and these designs?' and I'd be told that it would be the client's marketing team looking after it. I'd be thinking, 'Hmm, that's interesting. That's not the way I would do it', but it's not like I knew anything concrete about this stuff back then. I didn't know about content design or anything. I knew that technical writers existed, but I didn't know about writers and design names.

"So, I just became really fascinated by it all. I could see that this is something that I'd like to do full time. My role at the time included marketing writing already, but I realized that I liked the design side of it too. I knew I wanted to pursue that kind of role."
At this time, Patrick was also working part-time as a freelance journalist.
"I really enjoyed reading video game journalism, and I really enjoyed writing about video games. I got to know a lot of the people within the games and media industry in Australia, and I started writing features for a couple of magazines here - which then led to writing features for polygon.com and Kotaku, amongst others.

"So that was just like a hobby really, but if I got a few extra grand here and there, then great.

"What that eventually turned into though, was 'freelance work life' starting to mirror 'full-time work life'. For example, when I was at PwC, my freelancing became more about delivering content marketing work. Later on, when I went into content design, more of my freelancing became content design focused."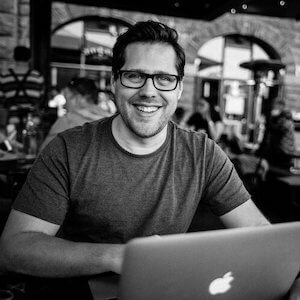 Working at MYOB in various digital copywriter roles
Patrick had soon moved on from PwC; joining accounting software and solutions company, MYOB, as a Digital Copywriter. After just a few years, he progressed into a Lead Digital Copywriter position.
"What I really loved about MYOB was that it was a software company, so I'd be working on or 'around' a particular product. That was really interesting for me.

"My role meant working within their web team. That team sort of overlapped with the product. There was a browser-based version of their software, so we always needed cohesion between things like what was happening online and the product.

"When I joined, what I was doing was called 'digital copywriting', but at that time, I noticed 'UX writer' was already a term in the US - just not really anywhere else. So I think if you were to go back and look at the job description now, it's really describing what a content designer or UX writer does."
Add to this the fact that a significant part of Patrick's role involved doing research, talking to customers, doing sketches, working with designers, and working with product managers, and you can see how the remit really extended far beyond the regular remit of a copywriter.
"One of the first things I did was working on A/B tests, but also on an Information Architecture project, which encompassed everything from face-to-face customer research to open card sorting.

"And one of the first big projects I worked on was a system that people could use to upgrade their software. The way that accounting software worked back then, just to give context for the Australia geo, is that the government would release adjusted tax tables (every year) that would state what people needed to take out of their pay and so on. It meant that our software needed to be updated every year.

"There was a tool where people could input the serial number for their software (because MYOB software has existed since 1993), and so people may have been using the same software for a decade, right. When they put in their serial number, they'd receive a message about how to upgrade their software. But of course, with dozens of variations of the software, there were also dozens of variations of the different types of messaging that each of those customers needed to receive.

"I remember working with a heap of stakeholders to figure out which customer journeys happened in which 'bucket', and which messages they needed to receive about how to upgrade their software - and whether they should receive a marketing message as well.

"It was really intense because we needed to combine understanding complex product flows with the message they experienced. And then, of course, that message needed to include the right tone of voice too. So that was a big project."
Patrick says that he was really fortunate to have some amazing people to learn from around him during his early career. What's more, he was able to combine this kind of learning with a number of other methods to accelerate his 'UX education'.
"During my time at PwC, I began to become way more familiar with UX and design terms, design systems and what UX really involved. And at MYOB, I worked very closely with one UX designer where I could just ask loads of questions of him, and he'd be happy to answer them.

"I was already familiar with things like design thinking and user testing by this point, but I would just ask questions like, 'Do we do this before this?' or, 'How do we do that?'

"So there was that, combined with me completing more formal training, reading books like The Design of Everyday Things, and really trying to combine my existing linguistic knowledge and skills with more formalized design skills."
Patrick would always try to apply anything new he'd learned to his work projects and tasks too.
"The big project I mentioned earlier about software updates is a good example. The internal stakeholders would be saying, 'Oh, we can just put this message here', and I'm saying, 'Well, hang on, they've received this message here, which is going to set their expectations. And so if they get this message, it's going to break that expectation. Can you see the full flow here?'

"No one had pointed that kind of thing out to them before, so it was good practice for me - using some new skills and knowledge - but it also helped grow my confidence as a practitioner."
Patrick's understanding and empathy with customers and user groups positions him perfectly to write useful, compelling copy and helpful in product or on websites and delight people with his unique style.
source:
LinkedIn
Progression, and the difference between 'senior' and 'lead'
Patrick says that when he first joined MYOB, in a mid-level copywriting role, it was really just about getting the work done. But, as with many other fields, as he moved into a more senior position, it became much more about the strategy and keeping sight of what was being done, why it was being done, and how it was being done.
"I'd be making sure that I was pushing back where I needed to and asking all the right questions. 'Why are we doing this?', 'Are we doing things in the best way?', and so on.

"Being more senior is not only about delivering a solution, but putting together a new perspective and a new strategy on how to make things even better - whilst stopping other problems in the process."

"And I remember that, as I moved into more senior roles at MYOB, another great mentor of mine, Will Donovan, who was the Head of UX in my division at the time, would place very clear expectations on me about what it was to be a senior. You don't just deliver the work. You need to be identifying the right people, getting them all in a room, leading workshops, asking them to sketch things out, asking for their ideas… and all the while, you need to be proactively finding the right data and working out how different flows might work, etc."
Patrick's manager at the time asked him to look at the job description of a senior UX Designer, compare it with his own role, and identify concrete examples of how he'd managed to achieve some of the things a senior UX Designer would do.
"It would be things like - number one - identifying a content strategy. So for instance, not just talking about how a piece of work will be delivered, but what the strategy behind it is and what should be done in terms of a post-implementation plan.

"Working as a lead meant that you were expected to manage a team and help create impact - as well as also identifying the changes that can be made at an organizational level.

"In fact, someone I spoke to recently said that 'as your seniority grows, so should the scope of your impact.'

"Being a lead also means taking more ownership of, say, a content design project and collaborating more closely with stakeholders to clarify the requirements, target audience benefits, and desired business outcomes.

"It's a pretty integral part of the UX process anyway, but in addition, you're playing a far bigger part in acting and pushing things forward. You're doing this with a data-driven mindset, your ideas, and by providing UX copy-driven input to new and experimental activities."
Continuing the conversation on his previous roles, Patrick remembers a particular piece of career advice he received from his manager, Danielle Furini, which he carries with him until this day:
"I learned at MYOB that the best idea doesn't necessarily 'win'. So the advice I got basically consisted of making sure that you're getting support for an idea before you pitch it.

"That means you need to understand and identify who's going to be involved in a program, product, or initiative before even suggesting it. However, I think a trap that some junior content designers (or perhaps anyone) can fall into is that they'll go to that approving manager and they'll say, 'I have this great idea to do this'. And the manager will say:

'Ok, well, that's going to involve speaking to this person. Have you spoken to them?',

'Oh, no, I haven't done that'.

'Have you spoken to so-and-so, who's the head of x department as well?'

'No, I haven't'.

"I'd had lots of experiences like this; of pitching an idea, thinking it was going to go down really well - only for it to be thrown back in my face. You start realizing that just because you have an idea, it doesn't make it great.

"When I started developing the language system at MYOB with my team, we sat down and said, 'Ok, if we were going to do this, who would be involved?' before I took it to pitch to my manager - or others. We made an entire list, and then we decided to try and meet up with each person on that list; not to pitch our idea to them, but just to understand what they were currently having problems with, the objectives they're trying to meet, and so on.

"It's about remembering that we all experience our jobs (and our lives) through our own lens, right? So we tried to keep in mind that our idea needed to clearly help other departments/stakeholders out in order for them to really buy into supporting it.

"Going through this process means that you then have the 'ammunition' you need for when you're standing in front of that big executive you need to pitch everything to. And then when they ask 'Have you spoken to x about this?' you can say 'Yep, we have, and they said it's going to help them do X, Y, and Z.'

"I know a lot of people hate this kind of stuff because it's politics, but actually, if you put the work in, that legwork can greatly help you to turn your ideas into a reality."
Patrick says that the advice he got to take this exact approach is something that's been guiding his working life ever since.
"As designers (and I'm guilty of this too), we can go immediately to 'solutionizing' and looking for that idea that will, for example, 'manage x'. But your idea won't matter if people don't buy into it - no matter how great it is.

"So instead, think about how are you going to actually implement that idea and get buy-in for it, because when you get buy-in, that will let you get those cool ideas out of the door, and also people will begin to trust you. It's a bit of a shift in how we think about things, I think."
Patrick remembers something that entrepreneur Gary Vaynerchuck once said about needing to be in love with the process of working. Patrick goes on to apply this directly to fields like content design, because of the problem-solving aspects of the role.
"If you don't love the process, you're basically doomed as a content designer! It comes back to journalism and everything too, in that I've met journalists who just didn't like doing interviews and research. To me, that just didn't make sense.

"As a content designer, you need to love being in user testing sessions and you need to love figuring out why customers don't like your product or what they do like about it.

"You just really need to be in love with wanting to understand the minutest of details about what's happening, when you're in the lead up to building something.

"If you don't love that process, then you'll probably burn out really quickly."
Patrick's fantastic to work with. He's highly capable, very personable, and is happy to take on a great deal of responsibility - both as a senior editor reviewing others' work and as a stakeholder manager. He was always willing to help when the pressure was on and genuinely cared about getting the project over the line. I have no hesitation whatsoever in recommending him to anyone.
source:
LinkedIn
The origins of UX Content Collective (formerly UX Writers Collective)
Just before Patrick was promoted to Senior Digital Copywriter at MYOB, Bobbie Wood, who was working as a Head of UX Strategy for Google at the time, put out a post on LinkedIn asking if anyone wanted to input into a course on content design/UX writing that she was pulling together.
Patrick saw this and was instantly interested in getting involved.
"By that time, I had learned those lessons about things like navigating politics, etc, but I wasn't really part of any kind of 'content design community'. So I thought getting involved in what Bobbie was working on would be really interesting.

"I thought I could contribute what I already knew about 'how to work with teams'. I also knew that my experience at MYOB being integrated within a UX design team was not the norm for content designers. Usually, people were coming in at the end of the process.

"It made me realize that I was actually really lucky to have worked in UX, and being involved in user research and all that. I was like, 'Wow, I think I can write something about how to work within this process!' So a few of us got together (led by Bobbie), and we just started to think seriously about how to put together this course.

"We also didn't want our course to be just 'click', 'click', 'click' and then 'Here's your certificate'. We wanted to create a course which made you demonstrate the required skills in order to achieve that pass. We wanted people to finish the course with something they could actually add to their portfolio. That was the goal."
Patrick says that there was no money to cover the time and labor costs at this stage. It really was a labour of love.
The course was eventually launched in January 2019 and received an excellent response from the very start. It was attracting more and more students as time went on.
"While we were writing this first course, we quickly discovered that there was so much that we wanted to include in there that we just couldn't fit in. So that's where the Genesis of the next ideas for the next courses really came from. And that's really led us to where we are now."
Bobbie worked full-time on (what was formerly known as) UX Writers Collective, whilst Patrick continued with his role at MYOB and helped out whenever he could.
"That was tough for Bobbie because she was working on her own, building this company, and though I was able to help, I wasn't able to help to the extent that she really could have done with.

"Last year, it was getting to the point the business was doing well enough to support me going full-time. So that led me to become CEO, in January 2021. Bobbie was able to take a break from it all for a few months, and then she came back as a Co-CEO.
Let me start by saying—hands down—Patrick is one of the most talented and driven UX content strategists I've ever had the pleasure of working with. As my co-founder at UX Writers Collective, Patrick has been consistently and impactfully on his game every day for the past year while holding down a full-time job. He's an amazingly talented writer and producer of everything from marketing copy, video scripts, and podcasts, to content design docs, blog posts, and product copy.
source:
LinkedIn
Life as the COO of UX Content Collective
Due to the company experiencing such rapid growth, Patrick and Bobbie decided to put a more formal leadership structure in place. This is what prompted the role change from Co-CEO to COO for Patrick.
And, just as he had studied journalism but really learned about how to be a journalist when working in the actual job, Patrick says it's the same story when it comes to working as a COO.
"There are some aspects of this job that I was unprepared for. I was prepared for financial things, based on sorting out my own finances as a freelancer, but when it came to developing new products and seeing things through, end-to-end, it was much more like being a product manager.

"You're looking at every single piece of the puzzle in a way that you just wouldn't in content design.

"For example, if I come up with an idea for a course, I'm not only thinking about what the user experience is going to be, but also about who's going to write that course. And, how is the final version of the course going to ensure that users leave with something that's actually valuable?

"Then, there are other aspects to think about; like what we're charging for that course - and what profit does that make 'per transaction'?
"The other important thing is, how do I make sure that the person writing this course has the expertise we want in someone responsible for writing it? We don't want just anyone to write it.

"'Oh, by the way, five students have complained about the same technical error today' - so that needs to be rectified, you know what I mean? So now I'm going to go work on that, and make sure that's been fixed properly."
Patrick tells us that his goal, coming in as COO was to turn a reactive role into more of a proactive role.
"That's been where a lot of my focus has been. And there'd been a lot of internal work done already to make sure that things were running well, before that.

"But as many of us already know, when you start scaling, you really have to make sure that those cogs, systems, and processes are still working, and that you're not just thinking about short-term solutions to things. Really, that's the way that content designers should always think.

"And it's great actually because I still get to practice content design and UX writing every day, because, you know, we have a student dashboard, and there's copy needed for this and that... so I'm always thinking about what's the language experience and trying to keep that consistent.

"There are so many layers on top of that of course, and there are things that I've had to learn regarding more of the 'technical stuff'. I've been working more closely with a developer than ever before.

"I've had to think about metrics, and about the 'long-term' - so six months from now, a year from now.

"I'm really into Marvel movies, and I always used to see Marvel say, 'Oh, we've got movies playing out for six or seven years', and think 'Whoa, for the next six or seven years?! Really?'

"But now that I'm in this role, I kind of understand it. All of a sudden, you're thinking about a product release in July 2022, which is quite a while away. It's made me appreciate long-term thinking much more than I did when I was working purely as a content designer. And it also made me realize - like Jonathon Coleman has said before - that 'the team is everything'. If they're not happy, then no one is happy."
UX Content Collective today
In terms of the size of UX Content Collective as an organization and its customer base right now, Patrick says that their student population is now in the 1,000s and that Bobbie and himself have now got around 30 people working for them (at various times).
"I'm so proud of where we've got to. I'll give you an example.

"I just hired a Supported Community Manager. He's fantastic. He was actually recommended to us by one of our Lead Finals Graders, and in the interview I had with him, he mentioned, 'X who recommended him said you were a fantastic team to work with'. That, to me, was like the ultimate compliment because, yeah, we're doing well - we've got lots of students, and we're making enough that we can pay people to support us full-time. But if we're not a good place to work, then what's the point, you know?

"So that, to me, was the ultimate pat on the back of saying 'Yeah, you guys are doing the right thing'. It just felt great."
And 'the right thing' can be broken down into different strands by Patrick.
The first thing he mentions is that the materials for their courses are written by people who are experienced in the industry and what they're actually writing about.
"For example, our UX Writing Fundamentals course is not only co-written by Bobbie and myself, but also Carol Valdez (who was at Amazon and now works at ServiceNow), and she's a real expert at what she does."
Patrick says that they also offer a hybrid model of 'self-paced material' with guidance from real instructors. It means that students don't have to complete a course in a set number of weeks, and have more flexibility.
"The third thing to know about is that we don't certify people until we really believe that they're ready.

"We do fully fail people sometimes, but thankfully, it's rare because we try to structure each course in a way that means students are well-prepared for their final projects.

"Then finally, we don't just decide what someone should learn about, like we're deciding it in our own little bubble. We actually go out to an advisory group of people from a whole bunch of different companies, and we ask them to look over our material and tell us what might be missing, what could be tweaked, and so on.

"So, for instance, one of the pieces of feedback we got recently was that we should think about including some accessibility-related teaching in our Fundamentals course - so we did that.

"I think it shows that we've taken the time to go out and listen to the industry, and our community."
Advice, recommendations and tips from Patrick
What skills can make a content designer stand out during the interview process, in your opinion?
"One underrated skill is being able to make an impact. I've sometimes seen content designers in interviews who seem unable to articulate the impact of the decisions they've made - and their projects.

"It's one thing to make your copy consistent or create a great flow, but what impact did you have?
If you were applying for a new content design role today, how would you prepare?
"Apart from the usual prep, I would focus on how to articulate my case study examples as narratives. So, 'Problem', 'Process', 'Solutions', 'Results'.

"Plus, I would spend quite a bit of time upping my skills regarding 'writing for accessibility', as this is becoming ever more important (it has been for a while already)."
People can struggle to market themselves sometimes, so what suggestions do you have for someone who wants to become more visible in the community?
"I like seeing case studies from very niche or specific circumstances, even if it's a project that other companies have done before. I always want to see how someone has implemented a new process or rule. So I'd say try and focus on highlighting that kind of content online."
For someone considering a career change into content design/UXW/content strategy (from marketing, journalism, or similar), what advice would you give them?
"Your skills are transferable. So, try and match every single skill you have against something in a content designer job description, including the aspects related to 'research'. Find the closest examples you can, and use them."
How would you suggest someone new to the discipline handles not having relevant experience during the interview process?
"See above! And state upfront that you are just trying to get as close as you can (in terms of making your experiences relevant), and then find appropriate examples.

"For instance, writing error messages for a 404 page follows a similar methodology for writing an error state in an app. So there, it's less about 'the function' and more about the process of creating the piece of copy."
Being an interviewee can be challenging and exhausting. What suggestions do you have for people to ensure they manage their mental health through this process?
"Remind yourself that you can be literally the greatest content designer in the world, but there will be still companies that won't offer you a role because they need a specific skill.

"And 99/100 times, not hiring you isn't personal."
Which three people do you recommend others follow?
Candi Williams
Head of Content Design @Bumble by day. Honeybee Author by night. Books Fan of words, inclusive design, social justice, food, crystals and wine. #BlackLivesStillMatterBrown
Follow @candiwrites
Yael Ben-David
UX writer specializing in complex products. Passionate about making tech accessible to mass markets. I also make crazy cakes.
Follow @YaelBenDavid
Ben Barone-Nugent
i'm a ux writer at google and i used to work at netflix and facebook
Follow @benbn
Which books would you recommend people read to help develop their skills?
The Design of Everyday Things: Revised and Expanded Edition
The Design of Everyday Things shows that good, usable design is possible. The rules are simple: make things visible, exploit natural relationships that couple function and control, and make intelligent use of constraints. The goal: guide the user effortlessly to the right action on the right control at the right time.
On Writing: A Memoir of the Craft
"Long live the King" hailed Entertainment Weekly upon publication of Stephen King's On Writing. Part memoir, part master class by one of the bestselling authors of all time, this superb volume is a revealing and practical view of the writer's craft, comprising the basic tools of the trade every writer must have. King's advice is grounded in his vivid memories from childhood through his emergence as a writer, from his struggling early career to his widely reported, near-fatal accident in 1999—and how the inextricable link between writing and living spurred his recovery. Brilliantly structured, friendly and inspiring, On Writing will empower and entertain everyone who reads it—fans, writers, and anyone who loves a great story well told.
Articulating Design Decisions: Communicate with Stakeholders, Keep Your Sanity, and Deliver the Best User Experience
Every designer has had to justify designs to non-designers, yet most lack the ability to explain themselves in a way that is compelling and fosters agreement. The ability to effectively articulate design decisions is critical to the success of a project, because the most articulate person often wins. This practical book provides principles, tactics, and actionable methods for talking about designs with executives, managers, developers, marketers, and other stakeholders who have influence over the project with the goal of winning them over and creating the best user experience.
Is there a particular site or product that you think does content particularly well?
"I actually had a great experience with the Victorian Government's Vaccination Portal. It was a good example of online services incorporating many different use cases, including having to reschedule a vaccination appointment.

"We have limited vaccines in Australia right now, and it would have been easy to exclude that option, but I like that they clearly thought through a bunch of different cases."
What's your favorite industry conference at the moment?
"It has to be Button. :D"
Patrick Stafford: Further reading, listening, and watching