Scott Kubie is an independent UX consultant and a Staff Content Strategist for Mailchimp (full-time contract). He's also the author of Writing for Designers. He manages a number of his own projects such as the UX Writing Events Newsletter, and has appeared as a speaker at a number of conference events.
We chatted to Scott about the world of content strategy. In this piece, we unpack his career journey to date, and extract lots of interesting tips and insights from him along the way.
Career history, at-a-glance
Mailchimp

Staff Content Strategist (Contract)

July 2020 - Present

Brain Traffic

Lead Content Strategist

October 2018 - March 2020 (1 year, 6 months)

Brain Traffic

Senior Content Strategist

March 2016 - October 2018 (2 years, 8 months)

kubie.co

Independent Designer and Digital Strategist (self-employed)

October 2014 - February 2016 (1 year, 5 months)

Wolfram Research

Lead Content Strategist

May 2013 - October 2014 (1 year, 5 months)

Wolfram Research

User Interface Writer / Content Strategist

March 2012 - May 2013 (1 year, 2 months)

BitMethod

Creative Strategist & Interface Writer

February 2009 - February 2011 (2 years)
Joining Wolfram as their first UI Writer
In spring 2012, Scott joined Wolfram as their first User Interface (UI) Writer.
"No one had really heard of a user interface writer. So folks at conferences and such thought it was pretty cool. And what's funny about it is that, in hindsight, it would have seemed so obvious to make that a title, but no one had thought of 'user interface writing' yet, or at least it wasn't in wide distribution.

"But I basically did what everyone thinks of as UX writing now; I was 'the word person' on the design team. There were too few of me, and I ended up supporting 12+ designers. Often at the prototyping and wireframing stage, they were just trying to get text into their designs and we'd sit down for one or two hours a week, and work through the words."
During Scott's first year at Wolfram, he spent part of this time articulating 'what content meant'. Soon after starting in his role, he recognized that the problems and needs with content tended to be systemic, rather than localised to any specific design.
"I started talking about advocating for content strategies; thinking that we needed content strategy, that we should hire a content strategist, and that we should get more people to care about it. And I think soon after that, if not right away, my job title became User Interface Writer/ Content Strategist.

"That second half of my job title seemed to alarm some people in the organisation. Wolfram was pretty established and had already been around for a few decades, so there were lots of people who had their own notions of what content meant. But they weren't the same as what I thought of as content strategy.

"So in that first year, there was a lot of time spent on explaining myself and trying to navigate through the politics. Not that anyone was against me, but it was important that I invested in championing the relationships between content 'as an idea' in the organisation."
Scott was also regularly answering frequently asked questions such as "where does content fit in with this process?" and "should we do the words for this design first?" but he found that over time, things got better in terms of his colleagues really starting to absorb the knowledge he was giving them.
He regards his best piece of work at Wolfram to be an information architecture and navigation design project. There were tons of new products and concepts coming online and a lot of those products and concepts shared namespace and conceptual space with the previous and co-existing desktop versions of those same products and ideas.
"That, combined with the fact that no one had just really actively thought about the information architecture in many years, made it quite a sticky mess to get 'unsorted'. So that was a really fun project.

"I helped drive the 'framing' of the work we were doing for those in the leadership team - which included the founder and CEO, Steven Wolfram. He's a very ontologically minded fellow. A lot of his software and technology is about taxonomy and ontology. So, that was a bit scary, presenting to someone who got some kind of award when they were about 19 for basically being a genius, and then there's me who was writing and had previously studied journalism."
Scott helped to present the concepts and set the scene; taking members of the leadership team through his team's rationale for what they wanted to do with the website to make things better.
"It was a big 'lift' to get it through. And I would say it's probably had the biggest impact of any work I did there. You can still see it in action, several years on."
Incredibly inspiring and effective" is the phrase that comes to mind when I think about Scott as a designer and leader. Scott expertly filled the role of content & design strategist, workshop facilitator and UX educator for my division's UX team when we worked at Wolfram Research.
source:
LinkedIn
Scott moves to becoming self-employed
Whilst still working at Wolfram, a manager that Scott had long-admired as a colleague left, and it helped trigger a decision in Scott; to leave Wolfram and start working for himself.
"We had recently finished the first major phase of Wolfram's Cloud launch, and there were also more content people by this point. It just felt like a good time for me to leave.

"So, I left, but I didn't have a grand plan. There was kinda a lot of stuff happening in my personal life at that time too, and I just felt it was time to change my focus. So I went independent and started hanging out in a coworking space in town (I lived in Des Moines, Iowa at the time).

"I had some connections from previous start-up work that I'd done in central Iowa. It's a community that I hung out with a lot; going to 'start-up weekends' and 'bar camps'. I don't think people honestly knew I was a 'content strategist' per se, but I think they thought I was like a 'thoughtful, systems-minded person - and word person.

"I started to get lots of interesting (piecemeal) work. Much of it ended up being either high-level UX consulting or high-level messaging development, but I had some information architecture work as well, which I found commonly came up."
Securing a new role at Brain Traffic
After a year and a half of working for himself, Scott decided he wanted to look for a permanent role somewhere. It was a little tricky at first, as he didn't hear back on all his applications, and some of the roles he would ideally fit into just didn't exist yet. UX writer roles at this point in time, for example, did not formally exist in most organizations.
"My good friend Michael Metts went into an agency for an interview once and apparently the guy kept asking him where his 'wires' were. 'I wish I saw more wires in your portfolio' etc, and Michael was like 'do you mean wireframes?' 'Yeah, yeah.' I mean that's how uncommon these kinds of roles were back then. They didn't understand writers."
Scott recalls that he had previously given a talk at a Confab event (a conference event organised and run by Brain Traffic). That Christmas, he was visiting his parents and he thought to look up the organisation to see what they were up to.
"There was a job posting on the Brain Traffic site that something like, 'please get your application in by November 5th, and you'll hear back from us soon'. So I'm like a month and a half late at this point. And I was like, 'well, let's try it anyway...'

"And it was really funny because you don't necessarily know how many people even worked there at the time; whether it was already 100 people or just five people. So I wrote this very formal introduction letter of like, 'hi, I'm Scott. I spoke at one of your conferences, blah, blah, blah'.

"I think it was three minutes later, and I'd received an email back from Kristina Halvorson. 'We know who you are. What are you up to these days?'"
Scott talked with Meghan Casey soon after, for a pre-interview. He also met some of the Brain Traffic team (and the dogs) in person. All went well, and soon enough, Scott was offered the role of Senior Content Strategist.
Some of his time was spent supporting Meghan on the biggest projects the organisation had in progress, but he was also managing some smaller projects alone, and getting heavily involved in content and communications work; running projects that would help people make decisions about their 'content reality'.
"There was a lot of setting up the 'infrastructure of intention'- asking questions like:

What do we want?

Who is our audience?

What is this channel for?

How do we want to make decisions about content production?

"It's stuff where clients found it really helpful to have an outside perspective. I was also helping people who internally already had the right answers to questions like these, but found it hard to be heard, or articulate those answers to leadership teams."

"My work really varied in terms of the time spent on each project too; some clients might just want a two-day workshop, where we could help them to make a bunch of decisions. Others, it would be a three to six-month project where we'd be making all kinds of plans and choices about content operations, content strategy, all that kind of stuff."
Scott found this work interesting, but he is frank about the extent to which it was exciting. He's made no secret of his thoughts on what it's like to be a content strategist, writing in his Brain Traffic article, 'Content Strategy is Boring, But That's Ok':
"In my experience, the right answers to our burning content strategy questions tend to be completely boring. That's great! It's OK to be boring. Boring beats baffling. Obvious beats obtuse. Articulated beats assumed.

Time and again, smart people get stymied in their content strategy work because they're afraid to write down something that seems too simple, too obvious, too boring. Boo!"
During our chat, Scott acknowledges that one reason content strategy work existed was because it almost 'mopped up' the things that had otherwise been neglected for years by organisations.
"This neglect creates a crust and a backlog - and friction.

"It's not interesting to get the oil changed on your car, or to vacuum every nook and cranny and change the furnace filters, but if you don't do that stuff, um, bad things happen."

"What I personally find interesting and motivating and rewarding is creating clarity and creating efficiencies for people. And if I can go into a situation and then at the end of my work, people feel like they are understanding each other more, then that's great."
Scott says that these problems can be there to work on because in so many organisations, many of the employees are doing their day-to-day, and noone is there to interrogate future plans or ideas for things relating to content.
"Cynically, I think a lot of times people need to just kind of come up with 'a plan', in case the boss asks, 'what's our plan for X'. And then you've got a whole bunch of disaffected people who aren't really clear why they're doing what they're doing.

"That to me was interesting and exciting; aiding people to understand why they're doing what they're doing. And if we find that the answer isn't a good one, we almost give them permission to stop doing it, and refocus and replan."
Scott's design skills are incredibly good, but his greatest strength is his ability to create an environment where good design happens. He makes reframing problems and articulating ideas look easy. The result is a group of people who suddenly understand how design can be used to solve problems. Anyone who spends time working with Scott comes away changed for the better. As we worked together, Scott's leadership and facilitation skills helped me become more thoughtful and intentional.
source:
LinkedIn
A promotion to Lead Content Strategist
"Moving into the lead position meant that I was spending more time thinking about and helping to shape and influence how we talked about and practiced content strategy. To an extent, I was now looking at things at a more operational level.
Whilst Scott continued to manage many projects on his own, Brain Traffic's reputation continued to grow. It was a recognisable entity to people who cared about content strategy, and that included potential in-house clients.
"At least one person in that room of client organisation employees would almost invariably be some sort of like Brain Traffic 'superfan'(!).

"They'd been to one of the conferences, they saw us speak somewhere else perhaps (and on rare occasions, it's because they saw me speak somewhere), and got excited about what we were saying about content."
Scott says that one of the biggest takeaways from his time at Brain Traffic was that it's critically important to frame and anchor your conversations in reality - and in real business and customer needs.
"I feel like, yes, it's an easy thing to say, like 'we're going to be user-centred or 'we're going to focus on business goals', but (and I don't say this critically), I've been in many fast-moving design environments where (does air quotes gesture with fingers) 'business goals' is something that we spent 10 minutes talking about while we're filling out a lean canvas or something, you know… and that always made me very uncomfortable."

"I'm like, 'have we vetted this?' 'Who said, this is the goal?' 'Are we sure that's the goal?' and that was something that Kristina excelled at; as much as people think of her as a content strategist. She certainly is a content strategist, but if you see her talking with clients, you know what she does not talk about very much with them is content strategy. Instead, she talks about their business with them."

"We strive for improving content, operations, content, effectiveness, and user success with the work we do, and talking about 'content strategy' the concept is therefore a bit of a red herring in itself, and not the most effective way to go about the work."
A return to freelance consultancy - and a new role at Mailchimp
Scott was laid off from Brain Traffic in March 2020 due to cuts stemming from the then emerging global pandemic. He had to quickly scramble to find work, and applied and interviewed for lots of places.
"I got rejected for roles I really wanted, and at the same time, I ended up passing on some opportunities from folks that really wanted me."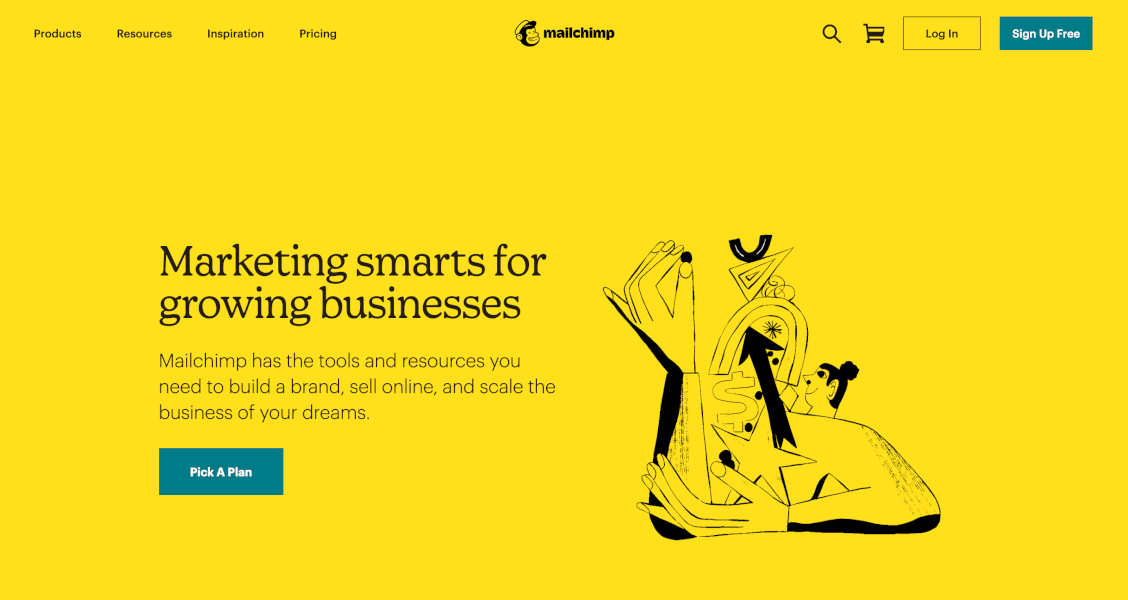 In terms of Scott's next move, he knew that he didn't want to relocate to Silicon Valley in order to take a role, and actually by this point in time, the working landscape had changed globally; with office workers now working from home/remotely.
As well as taking on consulting work, Scott secured a Staff Content Strategist contract role at well-established content practice, Mailchimp, in July 2020.
"I'm back on a design team, supporting product designers and UX designers. I'm sort of applying everything that I've been doing in theory and practice, and it feels good. It's been ages since I focused on, say, the particular 'word choice' in an interface versus 'setting up the systems for how we choose the words' in an interface.

"I felt a little rusty for the first few months, but it's coming back to me!"
Advice, recommendations and tips from Scott
What advice would you give someone who wants to achieve a similar kind of career to yours?
"One lesson I would impart is that 'it never hurts to ask'. And in fact, sometimes you really need to ask. Folks might not know, you know, content strategy feels like a pretty big idea to me, but there are still thousands of companies that have never heard of it.

"And if we can get back to a world where there are events and conferences and meetups and things like that, then that's a channel I've used to drive my reputation and career - it's through events. It wasn't like people just started knocking on my door, asking me to appear at these things - I applied and applied and applied and applied. I probably applied to Confab six times before they accepted me for a speaker slot!

"I've done a lot of mentoring and coaching sessions, and I find that a lot of folks maybe get a little too hung up on the 'small failures'.

"It sounds so neat and tidy when you talk through the summary of someone's career, but I couldn't even tell you all the things that I just got ghosted on or rejected from on the way here. That would be a massive list. And there are still 100 things that I wish were happening for me, and I'm looking at my watch and wondering, 'am I ever going to get invited to this thing, ever?'

"I realised that you've just got to do it yourself. No one approached me and said, please come write a book for us. I decided that I wanted to write one, and I started asking people how I could do that. And, and that's what led to that conversation. So yeah, it doesn't hurt to ask. Actually, you have to ask for you."
If you could go back in time and give yourself a piece of personal advice early in your career, what would you say to yourself?
"This is a little more personal, I guess, but I wish I'd thought more about having more consistency of vision about what I wanted back then. I was working for other people and other agencies, where those organisations were 'their babies'. I'm glad for all of my experiences, but if I had thought about where I wanted to 'go' more, I think I might've made some different choices and maybe had even more of what I wanted now.

"So I think having a sense of what you want, and reflecting on that often, is important. It's really easy to lose track of time if where you're working is fun and your colleagues are great. Then a layoff happens, or something changes in your life, and you hadn't been doing your planning for the future in the background."
Which industry professionals should people be following right now on Twitter?
Mario Ferrer
Tacos, stand-up comedy, and cumbia make me happy • Lead Content Designer @King_Games and teacher @Domestika @weareSHIFTA • I'm the only Mexican @ContentDesignES
Follow @ahiteva
David Dylan Thomas
Big fan of treating people like people. Author, Design for Cognitive Bias. Speaker, Lots of Places.
Follow @movie_pundit
Jess Sand
East Coast West. Lots and lots of Johnny Cash. People and content and question everything.
Follow @sDesignLabs
Is there a particular book you'd recommend to someone early in their career?
"I would recommend How to Win Friends and Influence People by Dale Carnegie which I actually have a whole talk about. It sounds like the biggest, cheesiest, phoniest business book in the world. But the way I perceive it is more like 'how to use manners, politeness and being empathetic in order to get on well with people and create good experiences for them'.
How to Win Friends and Influence People
Millions of people around the world have improved their lives based on the teachings of Dale Carnegie. In How to Win Friends and Influence People, he offers practical advice and techniques, in his exuberant and conversational style, for how to get out of a mental rut and make life more rewarding.
It's actually influenced my business life a little bit. It honestly influences my designs more than anything. I think a lot about that book when I'm designing interactions.
— Scott Kubie
Is there a particular site or product that you think does content particularly well?
"I love the JHS Pedals guitar pedal brand and probably spend more hours watching their YouTube channel than anything else in 2020. Great longform content, clear and fun voice, killer products and design."
Scott Kubie: Further reading, watching and listening
Scott's website A portfolio website, featuring blogs, articles, videos and more information about his book.
Scott's book Writing for Designers
Writing for Designers
From product documentation to menu labels to marketing emails, writing for the web can feel challenging—even insurmountable. But it doesn't have to be that way! Whether you're new to writing or looking to hone your skills, Scott Kubie's guide will empower you to get organized and get going. Learn to scope and articulate writing assignments, build a repeatable workflow, and develop methods for productive editing, collaboration, version control, and delivery. Don't struggle with writing—get the writing done.