Introduction
Matching with the right candidate is tough, and it's competitive when you want the best talent. In this article we look at two Content Designer job descriptions and we've created a free template for you to build on.
We'll focus on the important details to give you advice and inspiration to attract the right candidates, with diversity and inclusion in mind.
It's worth saying that diversity and inclusion is often overlooked in job descriptions, with links to statements sometimes put in as an afterthought.
This should be in the job description, and weaved in through the use of (or not using) certain language and design elements. This can include gendered terms and making pages and forms simple and easy to read / use for anybody applying.
To give you an understanding of the Content Designer role, we'll define it first.
Then we'll see what job descriptions from NHS Digital and Facebook (both for roles in London) look for in candidates.
Things like:
What they offer in terms of salaries
Key responsibilities
Qualifications and skills
Benefits, workplace experience and culture
Diversity and inclusion statements
We've also included some comparative analysis of the two job descriptions.
Let's dive in.
What is a content designer?
A content designer needs to communicate information in the best way possible. The role is about user research, understanding user needs and usability issues. A content designer is skilled in research and writing, but also in design thinking across various forms of media. This entails things like user journey mapping for different channels, collaboration across teams, sharing work and iteration.
GOV.UK have a great page on Content Designer job roles. Here's what they say in their introduction to the role:
What is a content designer?
A content designer works on the end-to-end journey of a service to help users complete their goal and government deliver a policy intent. In this role, your work may involve the creation of, or change to, a transaction, product or single piece of content that stretches across digital and offline channels. You will be expected to:
make sure appropriate content is shown to a user in the right place and in the best format
start from discovery and work closely with user researchers, service designers and interaction designers
source:
GOV.UK
What to include: Examples from NHS Digital and Facebook
Now let's look at two examples of job descriptions from NHS Digital and Facebook, so you can gain an understanding of what you should cover and details to include to make your Content Designer job description comprehensive and stand-out.
Think of your job description as a wishlist for the perfect candidate. But to attract the best candidates, you need to engage people searching for jobs with exciting snackable information, and the right tone of voice to appeal to them. As well as getting across all the vital information for the business.
Salary
First things first - show the salary! This is important to increase the diversity of applicants, for transparency and to promote pay equity. For more details on why transparency around salary is good for both the company and the candidate, check out Show the Pay.
Side note: All content design jobs that share pay details on our site are highlighted by a green dollar symbol to bring attention to this.
The NHS job description shows the pay at the top of the page in a box, along with other details like the hours, whether it's full time or part time, and whether it's permanent or temporary position, things like that. This is great because it displays the most important information in a snackable format.
Both these job descriptions are for roles in London. Here are the salaries, plus averages based on location. We've taken salaries straight from job descriptions where they have specified. If not, we have used LinkedIn, PayScale and Glassdoor to find out averages.
| Content Designer Salary | |
| --- | --- |
| UK Average | Average: £35,000/yr, range: £23,000 - £59,500 |
| London Average | Average: £38,000/yr, range: £27,000 - £65,100 |
| NHS Digital | £52,643/yr (including London weighting) |
| Facebook | £64,000/yr |
Typical responsibilities
To make this easy to scan, here we've done a quick-reference table of typical responsibilities and criteria for the role of Content Designer so you can make sure you are hitting the right marks.
We've categorised them into key themes, and you can see which have been included from NHS Digital and Facebook, and what they ask for.
| Responsibilities | NHS Digital | Facebook |
| --- | --- | --- |
| Thinking about user needs and user experience | ✅ | ✅ |
| User research | ✅ | ✅ |
| User-centered design | ✅ | ✅ |
| Strategic thinking | ✅ | ✅ |
| Collaboration across teams | ✅ | ✅ |
| People and line management | ✅ | ❌ |
| Hands-on content creation for a wide range of users | ✅ | ✅ |
| Content testing | ✅ | ✅ |
| Different content formats / multimedia / digital channels and platforms | ✅ | ✅ |
| Managing content in a CMS | ✅ | ✅ |
| Content standards, style guides, compliance, voice and tone | ✅ | ✅ |
| Monitoring the performance of content using analytics platforms and metrics | ✅ | ✅ |
| Information architecture | ❌ | ✅ |
Qualifications, skills and attributes
Now onto skills and qualifications. We've added details such as how many years' experience where the data is available.
| Qualifications, skills and attributes | NHS Digital | Facebook |
| --- | --- | --- |
| Experience | Experience working in an Agile environment | 5+ years experience (in mobile or web, experiences and social products specifically) |
| Bachelor's Degree | ✅ | ❌ |
| Educated to Master's level or with equivalent professional qualifications and experience | ✅ | ❌ |
| Portfolio request | ✅ | ✅ |
| Understand design thinking | ✅ | ✅ |
| Agile working practices | ✅ | ✅ |
| Giving feedback and sharing work | ✅ | ✅ |
| Versatile content creator | ✅ | ✅ |
| Liaising with stakeholders and relationship management | ✅ | ✅ |
Benefits
Next on to benefits. Here we have put together a list of typical benefits, and checked which are offered in each job description. Think about deeper benefits like company culture to attract talent, as well as typical benefits.
The job descriptions don't give an exhaustive list of benefits. So we have also used Glassdoor and the NHS website to give you a more comprehensive picture.
There is a link in the NHS job description to further benefits.
| Benefits | NHS Digital | Facebook |
| --- | --- | --- |
| Medical / dental / vision benefits | ✅ Eye tests | ✅ |
| Pension | ✅ Contributory Pension (with a contribution from us equal to 20.6% of your earnings) | ✅ |
| Life assurance | ❌ | ✅ |
| Childcare vouchers | ✅ | ✅ |
| Transport | ❌ | ✅ |
| Gym / Cycle to work scheme | ✅ | ✅ |
| Career progression | ✅ Clear, planned and transparent | ✅ |
| Discounts including things like shops, restaurants, gym, mobile phones, and insurance | ✅ | ✅ |
| Annual leave / paid time off | ✅ 27 days annual leave increasing to 33 with service. Plus a buy and sell annual leave scheme | ✅ |
| Sick pay | ✅ | ✅ |
| Flexible working (which may include part-time hours, job shares, flexible hours and part-remote set ups) | ✅ | ✅ |
Diversity and inclusion
Diversity and inclusion should be at front of mind when creating your job description. And many organisations are now making a conscious effort to ensure they are hiring fairly and diversely. As well as a statement, it's important to carefully consider language used (e.g. not gendered or biased) and be sensitive to other protected characteristics.
As well as the need to comply with things like Reasonable Adjustments for disability, both at work and throughout the hiring process, it's important to make your job ads engaging and descriptive, but also simple, readable, usable, accessible and in plain language.
Facebook
Here is an example of the of diversity and inclusion statement from Facebook:
"Facebook is committed to providing reasonable support (called accommodations) in our recruiting processes for candidates with disabilities, long term conditions, mental health conditions or who are neurodivergent, and to candidates with sincerely held religious beliefs or requiring pregnancy related support. If you need support, please reach out to accommodations-ext@fb.com."
We can see they have talked about reasonable "Accommodations" (or "Adjustments") and their job description is straight to the point, well laid out, and doesn't use any gendered or overly complex language.
NHS Digital
With the NHS job description, their statement is in a link to their employee section on the NHS Digital website. It says in their diversity and inclusion statement:
"A diverse workforce
We aim to create and maintain a diverse, representative workforce within NHS Digital and increase the pool of diverse employees across the health and care technology and data sectors.
Inclusive behaviours and leadership
We will create a working environment that values difference and fosters an inclusive workplace culture - a culture in which employees from all backgrounds can give their best, are treated fairly, are valued for their contributions, and can progress in their careers. Leaders and managers shall behave in a way that is fair and inclusive as they lead our staff, particularly during periods of organisational change.
User equality
We will develop and provide digital and data services that are accessible and useable by the widest possible range of users, particularly for patient and public-facing services. We will ensure our public-sector duty is appropriately reflected in our communications, policies, programmes, processes and training."
This is clearly not just a generic statement, and is a well-thought-out commitment to diversity and inclusion.
Highlights: comparing and analysis to inspire your job description
In this section we've chosen some key quotes from the two job descriptions, to give you some deeper analysis. This should help you gain an even better sense of what the role of Content Designer entails, and what companies ask for. We've also included links to docs with the full adverts if this is helpful.
NHS Digital
Content Designer
So what does a day in the life of an NHS Digital Content Designer look like? We can see that straight away there is a focus on liaising and collaboration with multidisciplinary teams:
"The postholder will work collaboratively with other content designers in the team and, when required, with other multi-disciplinary team members (including design, development and user research) as well as liaise with internal and external stakeholders."
And
"Working closely with content designers and other team members to create and maintain content that meets user needs and is compliant with NHS.UK standards."
There are high expectations in terms of producing SEO-friendly copy and content, and they say:
"Producing copy and content assets that are accurate, timely, high-quality (based on insight and outputs of user testing, relevant to the audience, easily understood, optimised for search engines) and to style."
There is a real focus on understanding and creating content for the desired audience, and focusing on the user.
They also talk about Agile working:
"Experience working in an Agile environment. The role requires that the content designer attends stand-ups, planning meetings and retros."
Agile is a modern working practice that has become popular in many fields today, including content. In short, it's about taking a practical approach to being highly responsive to change. The agile methodology / mindset is about working well in a fast-paced, evolving environment and use an iterative method and flexible approach to enable rapid delivery.
Here is a link to the full job description for NHS Digital
Facebook
Content Designer
Like the NHS, there's a focus on collaboration in Facebook's job description. They need somebody who can:
"partner with Facebook designers, product managers, researchers and product marketers to plan and create the content for Facebook products, continually improve that content, and evolve Facebook's voice and content standards."
And, again, like the NHS there is a focus on modern and Agile ways of working. They say:
"Our global teams are constantly iterating, solving problems, and working together to empower people around the world to build community and connect in meaningful ways."
The ideal candidate will:
"Thrive in a flat, fast-moving organization that uses a light-weight process to have a huge impact."
Flat organisations are where there is less hierarchy than traditional structures, and this is linked with Agile working practices.
In terms of role specifics, as well as high-level strategy work, this role, like the NHS role, still has a lot of hands-on writing and editing.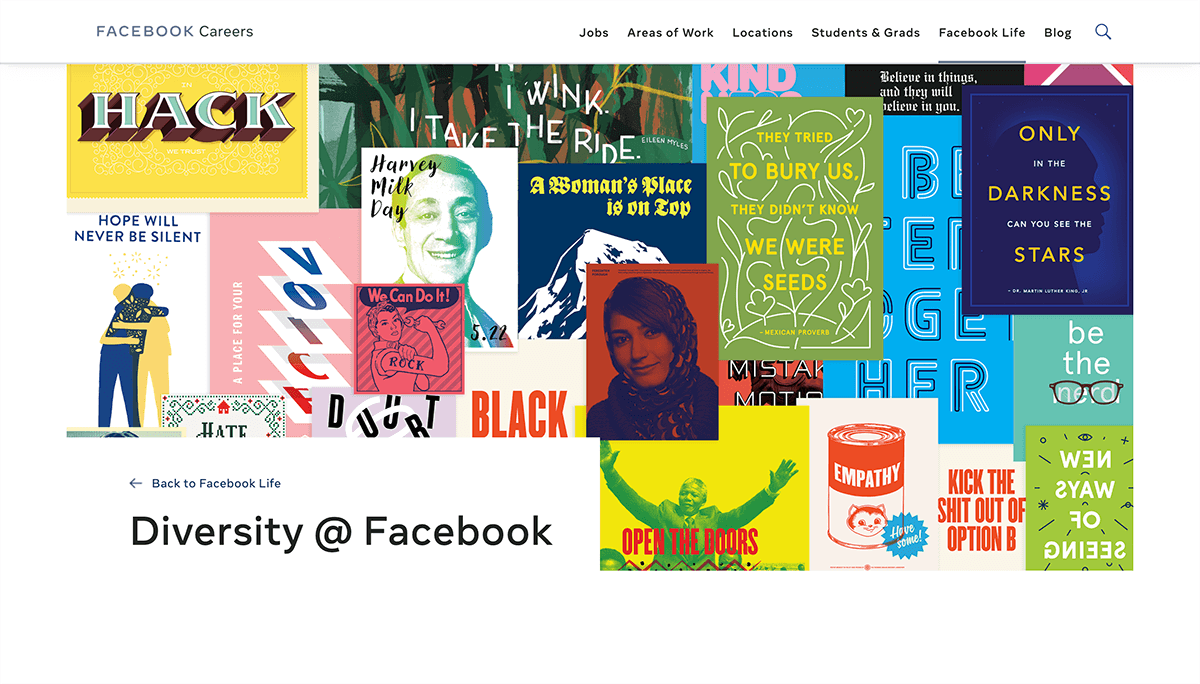 Specific requirements are also experience in mobile, web and social content, and interface content in particular.
There are many different types of writing for the web. One that is common in content design roles is microcopy - which is the short-form text you find on things like buttons and forms.
And Facebook need someone who is a versatile writer who is able to:
"Plan, write, edit, test and improve content including interface language, product education materials, product names, navigational nomenclature and other content throughout Facebook experiences."
"...interaction flows, product tours, transactional emails and launch education materials, as well as apply consistent standards and elevate the overall quality of our work."
They also ask for examples of work the candidate has written:
"Please include a link to samples of your work that show a breadth of experience across a range of content types. You may wish to show us content you've created for user interfaces, microcopy, user education, direct or transactional emails, style guides or product launch content."
Here is a link to the full job description for Facebook
Next steps: Writing your job description
Although from completely different sectors, we can see that the two job descriptions are actually quite similar, on the whole. Both provide a comprehensive view of the roles they are advertising, and we've found a lot of common ground for general themes and requirements for the role.
Hopefully this article has given you an idea of some of the similarities and differences, and some inspiration for writing a Content Designer job description. If you need help with this, download our free template.
Free template download
Use this Content Designer Job Description Template as a base, or to inspire your own. It's comprehensive and includes example excerpts discussed in this article.