Introduction
Job descriptions are something that seem simple on the surface, but are in reality incredibly difficult. They need to be clear, inspiring, and convey a lot of information. Creating a good one takes a lot of work, while creating a terrible one is very easy.
This article will set you up to write an excellent content strategist job description, taking you through three examples and picking out their main themes and angles. After reading you'll be set up to create your own amazing description.
What is a content strategist?
A content strategist can be an extremely broad role, especially for more senior positions. Ultimately they're responsible for the planning, creating, and execution of content that aligns to a company's business aims.
This can include all types of content, SEO, website design, and copywriting. The main aim is to ensure they align and support each other to achieve the desired outcomes.
To learn more, read our 'What does a content strategist do?' article, which goes into far more depth and brings in some examples.
Content strategist job description examples
Now it's on to our own examples, and we've gone for SurveyMonkey, TikTok, and Amazon. All three are big name companies, but the roles cover a few levels of seniority.
Combined they should tell us everything we need to know.
SurveyMonkey
Content Strategist
We start with SurveyMonkey's job advert, the least senior role on our list. It opens with a boilerplate explanation of who the company is and what they do.
"SurveyMonkey (Nasdaq: SVMK), is a leader in agile software solutions for customer experience, market research, and survey feedback. Our mission is to power the curious and enable organizations, including 98% of the Fortune 500, to transform feedback into action."
There's nothing inherently wrong with this, but the opening paragraph is prime real estate to grab a candidate's attention.
In this case it's the biggest paragraph in the whole advert, and gives no insight into how the role will fit into the company. While company information is important, being brief has its positives when you can include more details further down, or let people Google for extra info.
Interestingly their boilerplate also includes their NASDAQ symbol, which is a nice way to show your company is a serious one. Although this risks some embarrassment if your stock has recently dropped–unfortunately the case for SurveyMonkey at the time of writing.
Nevertheless, the opening two sentences give us a sense of what SurveyMonkey does, and the kinds of clients they work with.
We then go straight into another one paragraph section about their Content Strategy team.
"Our team works with designers, product managers, and support teams to ensure customers have the information they need—from the UI to the help center. We write for a broad audience, from individual consumers to large Enterprise organizations, across our suite of Surveys, Market Research, and CX products. You will report to the manager of the Help Center team."
All useful information, and it makes it clear that the role will need someone who is versatile, both in working with different teams and in the work they'll do. But we're still pretty light on role specifics.
Finally getting into detail
Luckily the next section sheds more light on this. We get details on focus.
"You'll be focused on writing friendly content for the help center about how to use our products, explaining complex concepts simply, and driving projects that address top customer issues."
So now we know the role is for help center content, although it's taken three paragraphs to find out.
Then there's information on the wider aim:
"You'll offer a content strategy perspective throughout the product development process, work with UX writers, and influence strategic decisions that improve the customer experience."
This backs up the need for versatility, and where the strategy part of being a content strategist comes in. All important details, but arguably, this should have been gotten to quicker.
We're then presented with a bulleted list which finally outlines the role responsibilities in detail. This is an excellent example of showing who you'll be working with and how:
"Work with many partners across teams to ensure content meets needs"
"Peer-review content written by teammates and provide clear feedback"
A few specific tasks:
"Track product launches, understand constraints, and keep the help center up-to-date"
"Use feedback and metrics to improve content quality and prioritize work"
And wider concerns that will guide the work:
"Write in SurveyMonkey voice and tone and contribute to style guidelines"
"Prioritize inclusivity, accessibility, and localization"
All in all, it's a perfect sum up of the role and makes you wonder why it didn't appear earlier in the description.
Experience required
This is quickly followed by more specifics, with the experience SurveyMonkey expects the candidate to have.
2+ years help center, knowledge management, or equivalent experience
Experience working on enterprise, business collaboration, or SaaS tools a plus
Strong editing skills, making text shorter, friendlier, and easier to understand
Deep knowledge of help centers, FAQs, and self-service content
Comfortable solving complex problems and prioritizing between multiple projects
Experience working with autonomy and navigating changing timelines
Knack for giving and receiving feedback with empathy
Zeal for collaboration—writing is a team sport!
They also request a work sample.
"Include a sample of relevant work, if you have one. It should illustrate your experience creating helpful content, for example for a help center, FAQ, user interface, email, or style guide."
There's little ambiguity or fluff in this section, meaning the reader will be sure if they fit the bill or not. It also gives a bit more insight into the role itself with mentions of problem solving, giving feedback, and collaboration.
Their side of the bargain
SurveyMonkey follows with a section on what they offer employees, including parental leave and sabbaticals, aiming to paint their company as an excellent place to work. Most notably they mention awards they've received for this rather than hoping their words will be convincing enough.
"SurveyMonkey was recognized by Great Place to Work® and FORTUNE as a top workplace in 2018 and 2019."
But there is a glaring omission: salary. In fact, none of the job descriptions featured in this piece even give a ballpark figure. We'll go into detail later on why this is a big mistake.
A commitment to inclusivity
The job advert finishes off with a paragraph about inclusivity and equal opportunities. This is an important section to include in any job description. It's short, but to the point.
"SurveyMonkey is an equal opportunity employer. We celebrate diversity and are committed to creating an inclusive environment for all employees. Accommodations are available for applicants with disabilities."
If that was it, it might be a little lacking, but they include a link to their diversity, equality, and inclusion section on their website. There's a huge amount of detail there and clearly a lot of effort has been put into it. Sending readers to this works really well.
SurveyMonkey Job Description Score
Content Strategist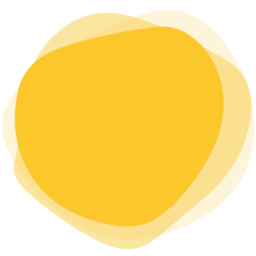 8.3/10
Now to TikTok's description. The first thing to note is that the job description gets into the details far quicker, beginning with a more specific title. Already we know exactly what team the job is for.
To start, TikTok dedicates just a single line to explaining the company.
"TikTok is the leading destination for short-form mobile video. Our mission is to inspire creativity and bring joy."
It's very sparse, but TikTok has the advantage of being well-known, so they can get away with fewer details here.
The first job specifics you get are on the teams the candidate would be working with.
"...collaborate closely with members of the TikTok Product Operations, Customer Support, Marketing, User Experience, and Localization teams..."
This shows that hiring someone that can work well with multiple people and teams from across the business is key for the role (a theme we see in all three descriptions).
Straight to the point
The rest of this opening section is all role specifics, and is a stark contrast to SurveyMonkey's in how much copy there was to get to this. It has a couple of paragraphs giving a good overview of the role.
"...to solve people's issues and support the community through informative, empathetic communications. You'll guide people on how to effectively use our product features, write responses with instructions on how to resolve potential issues, showcase updates through marketing collateral, and help creators leverage our tools to flourish on the platform."
And details on the kind of person they want.
"You're independent, proactive, comfortable with ambiguity and problem-solving, and passionate about solving people's problems. You have experience juggling multiple projects with various stakeholders, while maintaining close attention to detail and meeting tight, frequently changing deadlines."
Along with a mention of a portfolio, they finish off this section with some bullet points, getting even more specific.
Explain product features in clear, helpful, approachable, and empathetic messaging that aligns with TikTok's voice and content standards
Work closely with our Customer Support and Product Operations teams to identify top issues and determine the appropriate messaging strategy to address customer concerns
Collaborate with Product Operations, Marketing, and Design teams to create content for product launches and creator education
Develop and contribute to support content messaging guidelines and be a champion for best practices
Lead content audits to identify opportunities for improvement and maintain a consistent, cohesive product narrative
Work within a content management system to create, edit, and publish content, as well as send out for translation
Understand how to measure and optimize the quality and usefulness of content
TikTok have done very well in giving their job description clarity. It's obvious very quickly exactly what the responsibilities are, how the candidate will work, and with who, including the type of person who will be a good fit.
Free template download
Use this Content Strategist Job Description Template as a base, or to inspire your own. It's comprehensive and includes example excerpts discussed in this article.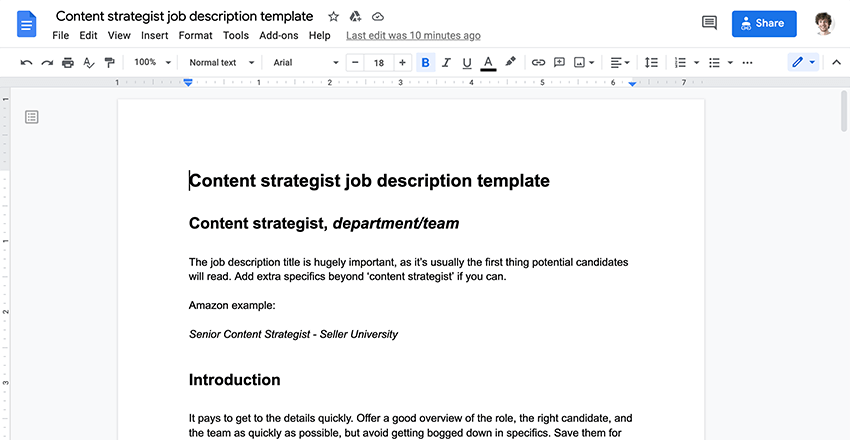 Must-haves and nice-to-haves
We then get to the experience section, but in this case it's split into two. The first part lists essential qualifications.
Experience in help or support content, user education content, instructional design, technical writing, or content strategy
Experience working with content management systems and developing content workflows and processes
Writing portfolio with support or user education content, direct or transactional emails, style guides
Self-starter who can manage multiple projects in a fast-paced environment and stay focused when faced with competing priorities
There's no big surprises here with specific experience in relevant topics, and the general experience you would expect from a seasoned content strategist.
Although they don't say how many years experience they expect you to have, at least a few years is implied by what they want. This could be a misstep as it may increase the number of applicants from inexperienced candidates. On the other hand, if someone with only a year in the business, but with an incredibly strong resume applies, it could be worth it if you have the resources to sift through extra CVs.
The second part is for what TikTok refers to as "preferred qualifications".
Experience working on a global product with international partners in different time zones
Experience collaborating with Product Operations, Customer Support, and Localization teams
Experience defining, tracking, and reporting on content metrics
Experience leading people or managing a team
Knowledge of HTML and Search Engine Optimization (SEO)
This is experience that will help a candidate stand out from the rest, despite not being necessary. This is a good tactic as putting all of the above in one experience list can cause some to think of it all as essential, discouraging potentially excellent candidates from applying.
This part also fleshes out some of the more advanced parts of a content strategist role, including references to defining metrics, HTML, and SEO. The latter two specifically are about getting a candidate who understands more than just writing good content, and who knows how it's put together and how to ensure people find it.And once more for those in the back, there's those references to collaboration again.
Inclusion and you
TikTok finish off with a statement about inclusion. It's well-written and sounds human, which is essential for statements like these to not sound flippant or last-minute.
"TikTok is committed to creating an inclusive space where employees are valued for their skills, experiences, and unique perspectives. Our platform connects people from across the globe and so does our workplace. At TikTok, our mission is to inspire creativity and bring joy. To achieve that goal, we are committed to celebrating our diverse voices and to creating an environment that reflects the many communities we reach. We believe individuals should not be disadvantaged because of their background or identity, but instead should be considered based on their strengths and experience."
One particular line is interesting too.
"We are passionate about this and hope you are too."
This gives us a little insight into the workplace culture of TikTok. This suggests it's not just about hiring a diverse workplace, but hiring people who are actively onboard with the concept as well.
TikTok Job Description Score
Senior Content Strategist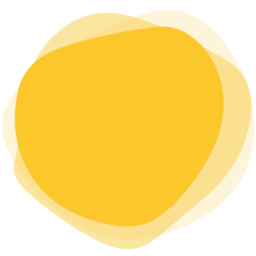 8.3/10
Lastly we have Amazon's description, the most detailed (and intimidating) of the bunch. Let's take a look.
Amazon waste no time explaining who they are and jump straight into the person they're looking for.
"Are you a Day 1 thinker who is passionate about innovating on behalf of our customers and isn't afraid of building programs from scratch? The Selling Partner Services org is looking to hire a visionary and experienced Learning and Development (L&D) leader who will be responsible for the strategy, development and scaling of its L&D team."
This also gives an instant sense that they're after a very strong candidate who has leadership experience, on top of the expected content strategy background.
Amazon offers a bit of breathing room next and explains exactly what the Seller University is, and its mission.
"Seller University is Amazon's one-stop learning service that assists aspiring and current Sellers successfully build and grow their business on Amazon globally. Seller University's mission is to empower every individual/ company that has expressed interest in selling on Amazon to be able to launch, build and succeed their venture on Amazon."
It's fair to say that just two paragraphs in, a candidate will know if this is the right role for them or not and whether they should scroll on. In other words, the description is doing its job.
The next paragraph also mentions some content strategist classics: working with multiple departments, measuring your performance, and strong communication skills.
"Interact with Senior Leadership roles across various L&D orgs within Amazon, benchmark against industry best practices, determine the strategy for managing Seller learning content. The ideal candidate will have strong leadership; and an ability to communicate effectively, prioritize, and provide the highest quality content to Sellers around the world."
These opening three paragraphs do the perfect job of setting the tone for the role, the level of skill required, and the kind of employee that will fit. Efficient work from Amazon.
Time to get specific
Now we come to what Amazon calls "key responsibilities". It's a bullet point list of the nitty gritty of the role, giving specific tasks around the day-to-day.
"Identifies user requirements by researching and analyzing user needs, preferences, objectives, and working methods; studying how users consume content, including data categorization and labeling; meeting with focus groups."
Who they will be working with.
"Collaborates with editors, learning experience designers, UX designers and product managers to deliver content aligned with business goals."
And how they'll need to measure and analyse their results.
"Validates content delivery by developing and completing usability test plans; evaluating traffic patterns; studying user feedback; coordinating with product managers and UX designers."
Nearly all of the bullet points also mention using data to inform decisions and strategy, such as:
"Leverages understanding of SEO, keyword research, information architecture, and usability best practices to defined content consumption paths for different cohorts of users, later feeding into personalization"
And:
"Develops a content architecture vision, strategy and roadmap by studying the site concept, strategy, and target audience; envisioning architectural scheme, information structure and features, functionality, and user-interface design."
While no content strategist worth their salt will completely rely on a finger-in-the-air approach, Amazon is making it clear here they expect extremely robust decisions made on data and evidence. That also implies someone with a strong data background will attract positive attention.
With the job details outlined, it's onto experience
Are you sure you have what it takes?
Amazon's experience section does the same as TikTok's and splits it out into two parts. One is the "basic" qualifications required.
Bachelors degree in Education, Business, Instructional Design, Organizational Psychology, Adult Education, or related field
Understanding of industry learning trends and best practices, adult learning theory, and instructional design principles.
5+ years of experience in content production or strategy role
Program Management experience that includes managing multiple cross-functional projects and initiatives
Experience developing training in a variety of delivery modalities (virtual, hands-on/experiential, instructor led, remote classroom, synchronous/asynchronous) for a variety of audiences
Experience and proficiency with Excel and capable of manipulating data in order to perform both high level and more granular analysis
Experience designing and executing rapid-fire test-and-learn campaigns
This is the only description in this piece to mention a degree, while it also calls for at least five years experience. On top of that it talks about high-level project management, developing training, and, unsurprisingly, skills in data manipulation and campaign testing.
And then we have their "preferred" qualifications.
Masters degree in related discipline: Instructional Design, Organizational Psychology, Adult Education, etc.
8+ years of experience driving Learning and Development design, implementation, and management at Amazon or other high growth business environment.
Experience developing and/or managing training programs for a variety of audiences
Experience in SEO guidelines and keyword research tools
Experience using social media for business
See what we mean about intimidating? This role is clearly top of the line (would we expect anything else from a senior position at Amazon?), and also tells candidates that their application needs to be exceptional to stand out.
While this should mean only the best apply, it's likely to put off those who are unsure or who lack the confidence to apply if they don't hit all the criteria. And unfortunately, this is likely to put off women more than men.
And speaking of.
Saying nothing can say a lot
Amazon's advert lacks any mention of diversity and inclusion in their advert. They have a whole website section about it, but for whatever reason they have chosen not to bring it up in their description.
This may not be an issue for some, but for others it may be a sign to look elsewhere. Along with the incredibly rigorous experience list, Amazon is risking putting off some high-quality candidates.
Amazon Job Description Score
Senior Content Strategist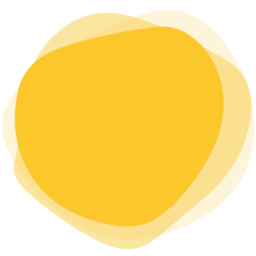 7.3/10
What you should include in a content strategist job description
With the examples out of the way, now it's time to get writing. Below we've put together the essentials, an explanation of why you need to include salary details, and then some topics to add that will make your job description shine.
Good luck!
The essential themes and criteria
Collaborating and working with people and teams across the business comes up every time, and is always given prominence. This makes sense for a strategy role as the work touches on many areas, from social media posts to in-depth reports. In tandem, this means a candidate must be good at communicating effectively (although this should be a given for a content role).
Intrinsically linked to this is the candidate having knowledge and experience beyond content. If you've worked on an SEO project or email marketing campaign before, this gives you a strong understanding of how they work and exactly how they fit into a wider strategy.
It helps with communication, too. If you know the language of a designer or coder, it's far easier to explain your ideas and turn their feedback into valuable changes. This expansive experience is particularly important for roles higher up the ladder.
The third theme is all about data and feedback, and using this in your work. Not only does a content strategist need to make decisions based on actual data (whether their own or someone else's), they also need to readjust and refine their strategies as new data comes in. And this includes doing their own testing, or paying attention to the data they get from other teams.
All three of these themes link to one another, which in itself shows that a content strategist needs to be flexible, thoughtful, and communicative. And while the ability to work independently is important, lone wolves need not apply.
On top of these areas, we've collated a list of essential themes and requirements for any content strategist description. As you'll see, not even our examples get full marks.
If you're ticking off all of these (where relevant), you're definitely on the right track.
| Responsibilities and requirements | SurveyMonkey | TikTok | Amazon |
| --- | --- | --- | --- |
| Collaboration and communication across multi-discipline teams | ✅ | ✅ | ✅ |
| Knowledge and experience beyond content work | ✅ | ✅ | ✅ |
| Uses a data and insights to guide approach and inform ongoing improvements | ✅ | ✅ | ✅ |
| Interest in growth, learning, and feedback | ✅ | ✅ | ✅ |
| Ability to work in a fast-paced/often changeable environment | ✅ | ✅ | ✅ |
| Taking complicated information and turning it into easy-to-understand content | ✅ | ✅ | ✅ |
| Experience in leading people | ❌ | ✅ | ✅ |
| Brand voice and tone guidelines work | ✅ | ✅ | ❌ |
| Other details | SurveyMonkey | TikTok | Amazon |
| --- | --- | --- | --- |
| Detailed team description and how it operates | ✅ | ❌ | ✅ |
| Who the customer/client is | ✅ | | ✅ |
| Diversity and inclusion statement | ✅ | ✅ | ❌ |
| What the company/team does | ✅ | ✅ | ✅ |
| Company/team aim/mission | ✅ | ✅ | ✅ |
| Portfolio request | | ✅ | ❌ |
| Salary | ❌ | ❌ | ❌ |
Salary and the importance of transparency
We're just going to come out and say it: include the salary (or at least a range) in your job description. No ifs, no buts. And there's a couple of reasons why.
First of all, you get off to a much better start with an employee when things are upfront. No one really likes pay negotiations and having this as one of the first conversations with a new staff worker risks souring the relationship from the off.
It's natural to push back against this, as in one sense it's in the company's interest to use tactics to keep salaries down. But on the other hand, if you're always "successful" at this, your average pay will be low and your staff will be ripe for headhunting. It won't be long before you're on the backfoot in negotiations when employees are waving far more generous offers in your face.
There's also a diversity and inclusion aspect to this. Some marginalised groups are less likely to negotiate on salary, which means they'll take what's offered (or not take the role at all). This can easily lead to either a homogeneous workforce, or one that's paid unequally across groups.
If you want to take diversity and inclusion seriously, and attract the best possible talent in the process, get that salary in your description.
If you want to learn more about this issue, there's lots of information over at Show the Pay.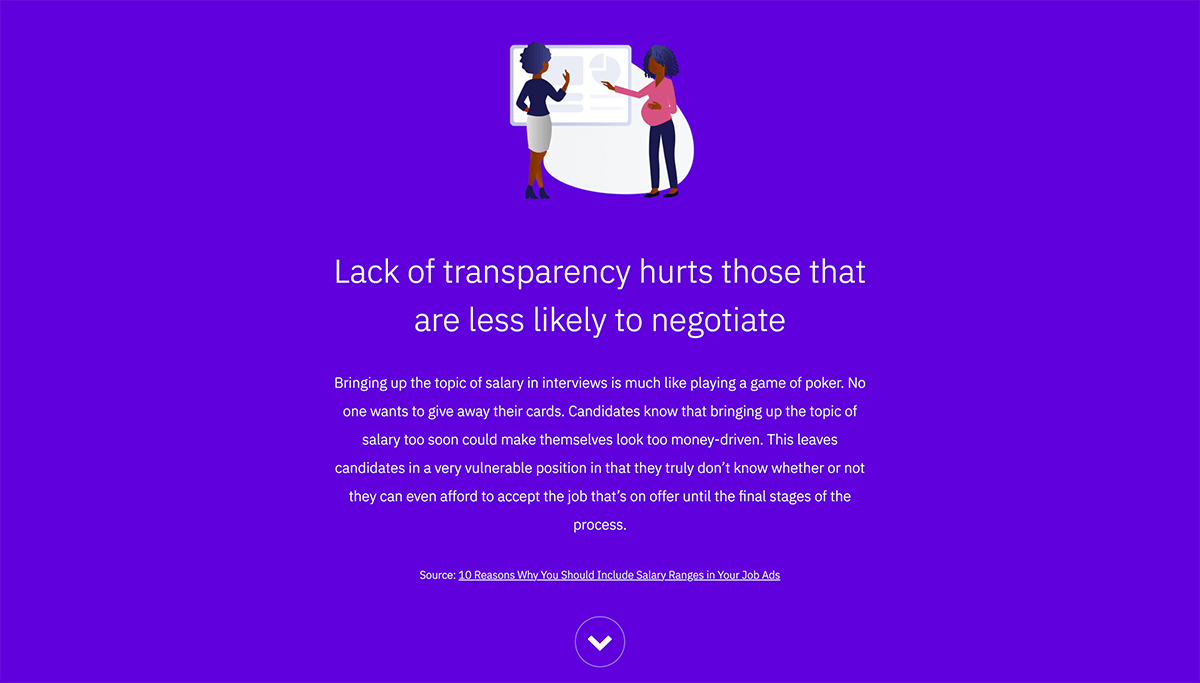 Stand out with progression, development, and opportunities
A content strategist job is a content strategist job. In other words, the responsibilities are not going to differ wildly from role to role, so how do you attract talent to yours?
One option is to talk about the opportunities, progression, and development your company can offer. In other words, everyone's job offers money, so what else can you bring to the table?
Here's some questions to ask yourself to find out what to include:
Will the employee be able to shape their role at all?
Will the employee be able to try new and exciting ideas even if they're risky?
Will they be involved in projects important to the direction of the company?
Will the employee have the chance to progress up the company from this position?
Is there a clear route for that progression?
What new skills/knowledge will the employee gain within the role?
What new skills/knowledge with the gain outside the role (such as with courses, development funds, and other schemes)?
Will they be able to learn from the experienced and knowledgeable co-workers?
Content strategists, by their very nature, are big picture thinkers, and they'll want a role to match. They will be thinking about more than just the salary they'll receive, and offering them options and opportunities like those above will be perfect for catching their attention.
It's worth noting that all three job descriptions in this article are lacking in this area. It's possible the companies believe that, by being well-established, big players, it will be implied. But you shouldn't rely on that.
Sure, someone may like the idea of working for Amazon, but if they think it'll be a dead end role, it wouldn't be hard to sway them your way with a position that will ensure they can develop professionally.
Take this paragraph from a Senior Content Strategist role at PMG.
"We've lived and breathed tech for more than 15 years. So we know that in this world—it's evolve or die. Which means that every day is packed with new challenges, things to learn, and boundaries to push in helping our clients gain and retain market share. We're building a dynamic team of exceptional humans who love what they do and the people they do it with. We don't take ourselves too seriously. But we do work hard to expand on our achievements and push ourselves to do better, think bigger, and grow every day. "
It's clear experimentation and trying new things is in the DNA of PMG, and for many people, that's the difference between a nightmare job and a dream one.
Free template download
Use this Content Strategist Job Description Template as a base, or to inspire your own. It's comprehensive and includes example excerpts discussed in this article.