Keri Maijala works as Content Design Manager at LinkedIn; specialising in content strategy and user experience. With well over a decade's worth of content experience at multiple organisations, Keri is also a speaker at conferences such as Confab.
We spoke to Keri about her career path to-date, but she was also happy to share some sage advice with us about different aspects of working in the content design field.
Career history, at-a-glance
LinkedIn

Manager, Content Design

October 2019 - Present

LinkedIn

UX Writer/Content Strategist

April 2018 - October 2019 (1 year, 7 months)

Financial Engines

Senior Content Strategist

November 2013 – April 2018 (4 years, 6 months)

Hello Content

Owner, Principal Consultant

July 2010 - November 2013 (3 years, 5 months)

HearSay Social

Content Strategy Consultant

December 2010 - July 2011 (8 months)

eBay

Senior Content Strategist

September 2007 – July 2011 (2 years, 11 months)
Keri's first formal role in content
In the mid-1990s, around the time that 'the world wide web' was just taking off and gathering speed, Keri was at university studying English. It just so happened that on one of these days, in front of a computer, Keri clicked on a Mosaic icon, when a browser window opened up.
She immediately found this portal into a new, digital world rather fascinating, and from there, started to consider what a career in working in some aspect of marketing might be like.
After graduating, and having taught herself HTML and PhotoShop, Keri decided to work as a web designer.
"As time went on, a couple of things happened, once I realised that I really wasn't good at web design at all. What people kept coming to me for, and what I learned that I really enjoyed doing was creating and organising good content.

"So, there would be some designing of websites for clients, but I would kind of become the de facto writer, or I would become kind of the person talking to the client that talks about technology in a way that was super simple to understand. Like a conduit of sorts.

"I had to learn what these things were myself first, and then kind of translate it for others. Since then, I've moved through my career and this has remained a common theme across all my roles."
Keri eventually decided to try and find a job that matched this type of content work, and eventually found a content strategy role being advertised by eBay.
"I'd never heard of a 'content strategist' job title before, but it essentially described me in a way no other job description I'd seen had; somebody that ideally had some sort of web design experience, somebody that had worked with clients, somebody that had some writing experience. That's how I got a job at eBay.

"It was a new role that my (soon-to-be) manager, Ann Bishop, had created based on specific needs eBay saw they had."
Keri spent time working with eBay's designers, and helped teams to focus less on making something 'fit an existing box', and more about establishing 'whether the box was needed in the first place.'
As the role was so new, she found herself spending a significant portion of her role explaining to others internally what a content strategist actually was.
"I mean, we're still having to explain what it is now to a certain extent(!), but at eBay, there was a lot of like:

"Hi, I'm the content strategist"

"What is a content strategist?"

"Well, I do writing."

"So why are you here now?"

...and so on.

And I was often told 'ok, we'll talk to you when we're ready for you' and I would be like 'no, you're ready for me now!'"
What is a content strategist?
A content strategist is an expert practitioner in content strategy and taxonomy design. In this role, you:
develop governance, processes and workflows based on delivering strategy and policy intent
manage relationships and interdependencies with other content roles
shape and structure the architecture of content based on user-centred design principles
work with lead content designers to organise and manage teams to deliver outcomes
source:
What is a Content Strategist? Examples from Facebook, Tesla and Microsoft
Once colleagues understood the value of what roles such as Keri's brought to the table, she was proactively invited to get involved in projects more often.
She remained as an individual contributor (IC) throughout her three years at eBay and worked with a wide variety of teams there.
What does 'IC' mean?
'IC' is shorthand for 'individual contributor'. In the tech industry, it's increasingly common for companies to define two separate career tracks: 'Individual Contributor' and 'Manager'. An IC is a professional who doesn't have line management responsibilities, but contributes significantly to the goals and mission of an organisation.
Deciding to go full-time, self-employed
Whilst Keri really enjoyed her time at eBay, she eventually decided that she wanted to strike out on her own.
"It was a professional and personal decision. On the professional side, I didn't feel like I was growing as much as I wanted to at work. I guess that's kind of what can happen at large companies. You have this narrow scope of what you're working on, and you can get tunnel vision.

"It's not necessarily a bad thing; a lot of people like to go super deep on one area. But for me at that point, I wanted to take on a variety of challenges, so I felt like going independent.

"And then just personally, the 9 to 5 and the commuting… I thought it would be great if I could just work from home all the time!"
Keri set up Hello Content in summer 2010 - and would work as a content consultant.
Luckily for Keri, the content strategy community she was already an active member of were an invaluable source of referrals for client work.
"The content strategy community was (and continues to be) very generous. I very rarely had to go and actively look for work.

"The first client that was sent my way came from a former coworker at eBay - I got a retainer from them. So it was a lovely little bridge that allowed me to make that jump from full-time employment to working for myself."
Over the next several years, Keri picked up work with a number of big-name brands including Intuit, Hearsay and Paypal.
"I remember really enjoying a piece of work I did for Intuit (on behalf of the agency who had hired me at the time), walking them through how to tell a story.

"It was really interesting, and I loved the idea of combining 'storytelling' and 'content design' - especially because there was an initial desire to push all the features of the Intuit products, whereas I was able to hold back the tide and say, 'ok stop. Let's roll it back in. Let's talk about the conversation with your customer - they don't want to hear about features yet. What they want to hear about is how it will make their lives better.

"So I introduced the idea of 'kill your darlings', and here's how you can progress through this story instead. I found that worked great, and if I remember rightly, the agency kind of adopted that model afterwards. It was like, 'okay, we're gonna take that. Thank you very much.'"

"In general, helping people understand that language is important is one of the most important things that we do as content strategists; the impact we can make in terms of helping other people to see that 'light bulb'.

"And that was my favourite part of every consulting job I did - and actually, it still is now. It's great when you see those light bulbs go off and you know you've helped someone understand: 'here is another dimension of the work that you may not have considered before; and look at that, it's just made the work so much better."

"I feel like a content strategist needs to understand more than any other part of the design discipline; so exactly what it is, what it does, how it works, why it matters...because ultimately we are creating the words and language to fit around that.

"We're the ones that ask the questions; helping people see how important it is to fully understand and have a point of view about what it is that you are trying to do, and what matters to the audience that you're presenting it to."
Returning to an in-house role as a senior content strategist
By the middle of 2013, Keri had decided to return to a full-time in-house role at Financial Engines (now Edelman Financial Engines); one of the existing clients she'd already been working for as a consultant.
"My former boss, Ann, worked there, and expressed that they really wanted me to go full-time for them. I wasn't sure at first, but ultimately it was a really wonderful team and they were working on problems that mattered - problems where finding answers could make a difference in people's lives.

"What Financial Engines does is work on products to help people with their retirement matters. They understand how confusing it can be."
Keri became part of the brand team there, with her work focused mainly on the high level strategy behind content, as opposed to other aspects such as UX writing. She spent time working alongside agencies to help Financial Engines establish their tone of voice and develop associated materials such as language frameworks. She also helped to develop the themes for company events.
"I'd be developing pieces of language that you could kind of plug in and play; like identifying 'where you are' within the product, and therefore 'here's how you speak to a person' depending on where you are in that product. Then I also did other things too, like we had like an electronic billboard in Times Square that I wrote copy for.

"So my role there was more the 'why you should use Financial Engines' rather than the 'how you should use Financial Engines' - it was more about the feel of the brand."
Keri's move to a UX Writer/Content Strategist role at LinkedIn
It was really important to Keri that her next position brought a similar type of challenge where she'd be able to help build something, as opposed to being a small part of something that was already big. Company values and leadership would also have to be something Keri could admire and comfortably get behind.
"At the time I was thinking of a next role, LinkedIn wasn't even on my radar at first, and again, it just so happened that my former boss had been doing some consulting work for LinkedIn around the same time, and she (Ann Bishop) told me that they were looking for someone to help them start a UX writing team there. She encouraged me to speak with them."
Keri discovered that the more she spoke to people at LinkedIn about their plans, and the more she read up on them as a company, the more she felt confident that it might be a good place to work for.
There were many rounds of interviews for the role for Keri, but she made it through to the last stage, and was offered the job shortly after.
"I walked into a room of entirely women interviewers, and thought 'this is extremely rare!'"
This brand new role meant that Keri was the first formal UX writer at LinkedIn; amongst the many other existing writers and content strategists already working at the organisation.
Her mission was to build the UX writing team there, and during the first year, Keri was focused mainly on the 'consumer' side of LinkedIn (what they termed internally as 'flagship').
"It was enormous, so I would focus on very small pieces of that area, but really what I was trying to do in my first year at LinkedIn was more like 'evangelism'. It was like 'this is what you could do if you had a content person on your team.'

"I started something called a 'writing lab', where colleagues would sign up and come in, and then I would walk them through the UX writing process and give them specific language, like 'maybe try this word instead of this word'. And I'd also try to give them a different point of view on things like a flow or a hierarchy, and sometimes be that person to prompt them into thinking 'could this bit go wrong here?'"
Keri feels this initiative was a bit of a double-edged sword - she felt that it got a lot of traction and was greatly appreciated, but at the same time, she believed it offered a 'shallower' level of help with content; one that can also provide the false impression that that's what ux writers were there to do.
"Really, it should be about seeing all the benefits of having a ux writer more embedded, so they could help you think through things from the very beginning - and ask the right questions upfront. By the time someone would get to me at the writing lab, it'd be like 'oh, this is launching next week' or 'this is going to engineering tomorrow.'"
Becoming a manager, and helping others develop and grow
By the middle of 2019, Keri's job at LinkedIn had evolved and she took on a managerial position in content design. She knew that making this transition would mean a shift in perspective was needed, so Keri thought long and hard about making this change beforehand.
"Before I decided to take the manager role, I had to do some real soul searching first. Up until that point I'd never managed anyone formally, and it wasn't something that necessarily appealed to me.

"I like digging in on projects. I like dealing with my own work. I like being the star of my own show. I like all of the gold stars. I like all of the trophies, all of the recognition..! That's what gets me fired up."

"LinkedIn is wonderful in that there was never any pressure for me to become a manager. It was like, 'we have a whole IC track. If you want to go for principal. Absolutely. You can do that. That's what that would look like'.

"My poor manager Julie Norvaisas, she was wonderful. We had so many discussions about this, and I had to dig deep. 'I'm kind of at the back end of my career at this point, so what do I actually want to do with the rest of my time? Do I still want to collect gold stars, or do I want to help others collect their own gold stars?'"
Keri remembers listening to Brené Brown and the fact that she mentioned something specifically about gold stars in one of her books, Dare to Lead, and that growth means you're not collecting them for yourself anymore - you're collecting them for other people.
"And I was like, 'I have to do this,' so that's when I decided it would be ok to try the Manager role. And I was told that if I hated it, I could just go back to the IC track - it wasn't a problem."
The new role was a completely different job, and Keri's remit wasn't all about it's projects anymore. Instead, it was all about people; making sure that they have what they need, making sure that they're heard and understood, and making sure that they're engaged and that they feel the work they're doing is valuable.
"It is so not about me now. I have disappeared into the ether! Now, if I want to be in the spotlight, I dress up as Moira from Schitt's Creek in a Zoom meeting!

"So, now it's really about pushing people to the forefront. I'm in a lot of meetings, I'm in a lot of discussions, and because my team is 'horizontal', it's a bit of a challenge because if I was managing a team that focused on say, just 'flagship', I could dive in and have so many conversations and have this really well-rounded knowledge of exactly what's going on.

"But because I have different people on different things, it's kind of impossible to have a lot of knowledge about each area."
Keri has learned to give her team members the room they need to work and grow. One of the things she started doing for the team last year is giving them space to work on particular things - like a presentation or a workshop. It quickly became known as 'Hidey Hole Week.'
"I made stickers and everything. I branded it up and made it fun, and I also sent them a whole little care package for their 'Hidey Hole Week'. It might not sound that important, but it kind of is important, right?

"'Hidey Hole Week' gives them time and space to step away from their project work and focus on developing other things that can help the organisation as a whole. Something that came out of this initiative was an update to our style guide."
Advice, recommendations and tips from Keri
What would you say are the key skills and capabilities you'd look for if you were hiring a content person into your team at LinkedIn?
"I'd say that, because my team is small, we'd need to look for people who are a little bit more advanced in their career because we don't have the ability to do a lot of mentoring right now.

"It's also important for them to have some sort of product experience because there's copywriting, brand writing, you know, all these different kinds of writing, but UX writing is such a specific kind of animal, So we'd be looking for somebody who has some sort of experience in that space.

"It could be somebody that has a writing background - perhaps they have a background in brand writing, but they first existed in the product space for some time as a designer.

"Generally, when someone attends an interview with us, we're looking for a person who's curious. Someone with that willingness or passion to learn and understand. Someone who really likes to dive in and understand what the challenges are, and can then flip it around and look at it in different ways. We want to understand what their thought processes look like.

"We also look for people who can be empathetic in the context of their work. This is just so important in the content strategy discipline; really understanding what others' challenges are and what they're responsible for, who's breathing down their neck for what, and so on. If you don't have that empathy for your design partners, it's really hard to develop trust and contribute in any kind of meaningful way.

"It's great to have a strong point of view and come in thinking 'this is the right way to do it,' but that can only get you so far."
Is there a career moment you're really proud of?
"With my time at eBay, I remember the first thing I wanted to fix was a category name. I was horrified that 'accordion' under 'instruments' had been spelt wrong.

"But seriously, I guess what I'm most proud of was being one of the first people who could introduce what it meant to have a content strategist on your team (when I was at eBay), and how much value someone with that point of view could provide.

"I would walk in there and with full-on wireframes, and be able to show colleagues what I was trying to describe; what I meant. I'm pretty proud of that."
If you could go back in time and give yourself a piece of personal advice early in your career, what would you say to yourself?
"I'd say try to be more engaged and visible within the content strategy community earlier, and be more generous with your time. It'd be something along the lines of that."
Which industry professionals should people be following right now on Twitter?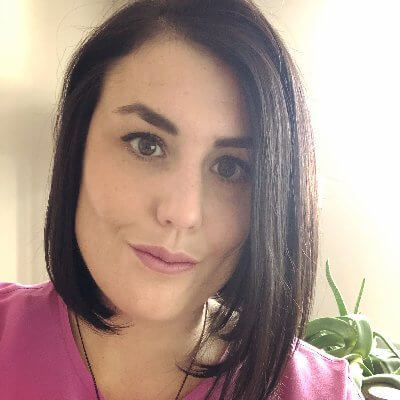 Sara Wachter-Boettcher
Tech + UX + racial justice. Leadership coach, strategist, speaker, author @wwnorton @abookapart @rosenfeldmedia. Work: Active Voice + @collectivestrng. She/her.
Follow @sara_ann_marie
Margot Bloomstein
Author, speaker, content strategist: TRUSTWORTHY, CONTENT STRATEGY AT WORK (2012), and BrandSort (2016). Liberal and dog lover.
Follow @mbloomstein
Jordan Ellyse
Managing the content strategy team @twitter. Reading all the things. Eating all the fruit snacks. Cracking all the jokes. #GeauxTigers #HoyaSaxa she/her
Follow @JordanEllyse
Is there a particular book you'd recommend to someone for early in their career?
"I would recommend Stephen King's "On Writing". What you need to know about me is Stephen King taught me to write. I've been reading his books since I shouldn't have been reading his books. I was like 10."
On Writing: A Memoir of the Craft
Immensely helpful and illuminating to any aspiring writer, this special edition of Stephen King's critically lauded, million-copy bestseller shares the experiences, habits, and convictions that have shaped him and his work.
"And nobody, for me, can tell a story like he can - and develop people that you are positive are real. It is done with so little ego from him though; it's just basically, 'yeah, this is kind of how I did it, and here are some things to think about.' And they're all do-able things that will improve your writing immediately, no matter what kind of writing that you do."
Is there a particular site or product that you think does content particularly well?
"I'm a sucker for a good brand done well; where the brand 'lives and breathes,' and you would recognise it anywhere.

"For instance, Southwest would be one of those brands where they have just got it down. And I am really envious of the Shopify team and not only because of the way that they approach their content but also how 'generous' they are - so it's less about the work and more about the process and the people. They're generous with their time and their materials.

"Also, MailChimp would be an example of that as well. It sounds super obvious, but the reason why it's obvious is because they do it really well; they've got that, that 'living, breathing' brand personality."
Are there any courses or workshops that you would recommend people look into?
"If you have the opportunity, courses are great. But if you have the opportunity to get real-life clients, even if it means volunteering your time or helping a nonprofit, for example, you can then work with a real person to understand what their needs are like. You get an assignment, and then you do it.

"Also, I guess that when you take a course or a workshop, you're not working with real people to understand what their specific needs are, what their specific quirks might be, where their ego lies - what kind of assumptions that they hold. And one of the most important skills a content strategist can have is to be able to be comfortable in those kinds of conversations and to help lead that conversation.

"I understand I'm kind of recommending somebody spend time where they may or may not have it, but if there's a way that they can do that, it's actually extremely valuable experience."
Keri Maijala: Further reading, listening and watching