One-day virtual conference: Growing In Content 2023
Redesign your career at Growing In Content 2023, whether you're aiming to climb higher in your current role or bouncing back from a career setback. Join us October 26th, 2023.
Recently, we had Patrick Stafford, CEO and co-founder of UX Content Collective, join us for our Office Hours. It was a packed session, with people from different corners of the world—both newbies and experts in content design—eager to hear from him. Patrick wears many hats. He's been a UX writer, content designer, and even a podcast host. He's known for his straight talk and deep insights into the content world.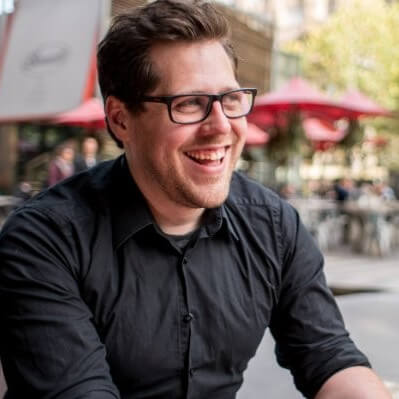 Under Patrick's leadership, UX Content Collective has become a go-to platform for those looking to improve their skills in UX writing, content strategy, and conversation design. They're all about making content work better, for businesses and users alike. And if you've been with us for a while, you might recall our previous chat with him. It was enlightening, to say the least.
This Office Hours was all about getting answers. From the basics to the tricky stuff, Patrick tackled a range of questions. We've put together the highlights for you. No fluff, just the good stuff. Let's dive in.
Career development and transition
Switching up your role or stepping into new sectors in the content design industry? This section covers the questions most of us have when considering a change. From fine-tuning your resume to understanding the value of a content portfolio, Patrick offers straightforward advice on making transitions smoothly and ensuring you stand out.
Question #1 from the audience
I've been in communications and content for over 25 years. What do you look for on a resume? What really stands out to you?
Patrick Stafford
CEO at UX Content Collective
When applying for content design roles, having extensive experience in communications and content is beneficial. When I was hiring content designers, I wanted to see how candidates applied their past roles to design. Specifically, I wanted to see if they could explain their decisions during the writing/design process and if they have a designer's mindset.
Question #2 from the audience
I've got 10+ years in content writing and strategy, mainly within banking and finance. How can I adjust my resume and portfolio to be appealing to other industries?
Patrick Stafford
CEO at UX Content Collective
Translating your experience for new industries generally comes in two steps. First, ensure you show potential employers that you're familiar with the design processes that inform decisions in any sector. This is crucial.

Secondly, start with the job description. Understand their primary criteria and their specific needs. Focus on the problems they want addressed and build from there. Identify key terms and integrate them into your resume, then create portfolio pieces that highlight those keywords.
Question #3 from the audience
Is a content portfolio really necessary to progress to roles like senior levels?
Patrick Stafford
CEO at UX Content Collective
A content portfolio shouldn't be seen as essential, but the reality is, for many roles, you likely won't secure them without one. However, the content of your portfolio will evolve. For senior roles, I'd expect to see fewer, yet broader case studies that showcase how you were involved in, led, or directed a design project from start to finish.
Question #4 from the audience
As a freelancer juggling multiple contracts, do you have advice on how to transition to a full-time role? How should I handle contract negotiations, or conclude them professionally, ensuring I maintain work quality without leaving any client in the lurch? Should I consider including an off-boarding plan in my contracts for potential full-time opportunities? And, how can I signal to prospective employers that I'm keen on full-time employment, given my current multiple client engagements?
Patrick Stafford
CEO at UX Content Collective
While I've assisted several freelancers in transitioning to full-time roles over time, I'll mainly address your latter concern: be clear from the start about your intention to transition from freelancing to a permanent position. By doing so, you convey to potential employers and recruiters that you're genuinely interested in a long-term commitment.
Question #5 from the audience
For those who've been in content design roles but under different titles, what guidance can you offer when searching for new opportunities, especially considering the current job market in the US?
Patrick Stafford
CEO at UX Content Collective
When transitioning from roles with varying titles, I'd recommend starting by understanding the primary selection criteria for the job you're aiming for. Ask yourself: how does your current experience align with these criteria? In my view, the title you held previously is less significant if you're competent and can do the work. So, place emphasis on ensuring that your portfolio and case studies address these criteria prominently, and then delineate, in a detailed manner, how you've met them.
Content strategy and tools
For any content designer, tools and strategies play a big role. Here, you'll get a lowdown on how to blend content testing with design, make the most of features in tools like Figma, and more. Patrick shares some handy tips and resources that can help you navigate the intricacies of content strategy in a fast-paced environment.
Question #6 from the audience
Do you have any recommended resources on incorporating AI with content?
Patrick Stafford
CEO at UX Content Collective
Certainly, there's a wealth of information out there on this topic. I personally recommend the newsletter from The AI Exchange. They discuss a variety of AI tools and their Slack channel is a valuable space for discussions. Additionally, we've curated and shared relevant articles on the UX Content Collective that you might find beneficial.
Question #7 from the audience
How can we effectively merge content testing with testing for other design elements, such as visuals?
Patrick Stafford
CEO at UX Content Collective
This is an excellent question. Content testing is a crucial component of the design process, and optimally, you should be conducting tests at every stage, utilizing varied methodologies as you progress. Here's how I'd approach it:

Early in the design phase, employ content-only testing techniques to gauge the direction you should pursue. 5-second tests can be invaluable here.
As you approach the mid-stage of design, employ content-centric tests like highlighter testing or cloze testing. These tests can affirm your choices before you proceed to prototype creation.
During usability testing, incorporate content-specific inquiries. Questions like, "If you were to press X, what do you anticipate would happen?" can uncover the difference between user expectations and the actual user experience.
Question #8 from the audience
Have you explored the new variables feature in Figma, and how do you believe it can benefit the content design process?
Patrick Stafford
CEO at UX Content Collective
While I haven't extensively experimented with Figma's variables, I've gathered insights from Jason Fox, who spearheads our Advanced Figma workshop. He finds them somewhat beneficial but feels they haven't fully realized their potential. He's eager to see Figma roll out more features tailored for UX writers.
Question #9 from the audience
How can one synchronize design thinking and content testing with users in a high-speed work setting, especially when there's a demand for rapid and varied content production?
Patrick Stafford
CEO at UX Content Collective
Even in a brisk environment, integrating the design process is feasible; the key is operating within set boundaries. Prioritize what's achievable in your timeframe. Quick research methods, like the 5-second tests, are invaluable for validating initial decisions and providing a foundation for subsequent choices. I'm an advocate of the double diamond approach, and having a clear rationale behind every decision is immensely helpful. Sometimes, the justification might be as straightforward as "this specific terminology had a tenfold higher search volume on Google Trends."
Future of Content Design and AI
Curious about where AI is taking content design? This section delves into the upcoming trends in the industry. Patrick shares his thoughts on how AI tools might play a bigger role in content design and what that could mean for professionals in the field. A quick peek into what the next few years might look like for content designers.
Question #10 from the audience
In a few words, how do you foresee AI influencing the content profession?
Patrick Stafford
CEO at UX Content Collective
The influence of AI on content as a profession is already unfolding. I envision AI emphasizing the role of content designers in addressing broader organizational challenges. While the current trend focuses on UX writers and content designers leveraging AI for crafting content strings, that's merely a fragment of the bigger picture. Content designers should consider how tailor-made AI tools can add value across an organization by addressing specific challenges. This involves a deep understanding of large language models. The core tasks of writing and design will largely remain within content design. However, those adept at harnessing these tools to effect broad-scale changes will be in the best position to excel.
Question #11 from the audience
Looking 3-5 years into the future, can you envision a specific AI tool that could significantly transform the field of Content Design and UX Writing?
Patrick Stafford
CEO at UX Content Collective
In 5 years, I believe content designers will be required to grasp how to craft custom instances of large language models to tackle and address content design challenges on a grand scale. With this perspective, I anticipate tools like Writer or Chatbase will gain prominence. It's also crucial for content designers to understand how to set up custom instances of LLMs independently. Fortunately, resources like AI Exchange are already available to aid in this learning.
Inclusivity and global content
Ever faced challenges in making your content inclusive or tailored to a global audience? Dive into this section to learn about localization, translation, and ensuring that your content speaks to everyone. Patrick provides insights into the best practices for creating inclusive content, addressing challenges freelancers face and the optimal stage for involving localizers in your projects.
Question #12 from the audience
My question is directed at those working at companies with a global audience. Do you create source content and then translate/localize it? If yes, how do you ensure inclusivity in your source content? What are the measures you take to ensure that the source content translates well?
Patrick Stafford
CEO at UX Content Collective
Localization is a complex subject. Typically, it's best to consider all your potential audiences from the start of the design process. So, you'd be thinking about these considerations even before creating source content. To ensure good translation and localization, it's essential to keep content short, concise, and clear. It's also beneficial to avoid idioms or casual phrases that might not be understood by a user with limited vocabulary.
Question #13 from the audience
I work as a freelance writer and I am big on inclusive writing. But sometimes, it feels like my hands are tied because I have to follow an already-established content strategy. In situations like this, how can I still ensure that my content is inclusive?
Patrick Stafford
CEO at UX Content Collective
Inclusive writing begins at the top. So, I'd recommend a dual approach. First, establish a relationship with those setting the style guide and advocate for change. Secondly, consider democratizing these concerns. Gather key stakeholders and outline the problem: "To benefit the business, we should strive for inclusivity. The current style guide restricts this. Here are some suggested changes. What are your thoughts?" If they don't accept your suggestions, at least you've raised awareness about the issue.
Question #14 from the audience
At what stage of the design process should UX writers let localizers get involved?
Patrick Stafford
CEO at UX Content Collective
Localizers should be incorporated from the start of the design process. Their level of engagement might adapt as the project progresses. For example, they might initially join meetings to stay informed but without immediate tasks. In short, early involvement is key. Addressing potential challenges from the outset can prevent more significant issues down the road.
Personal insights and experiences
Ever wondered about the behind-the-scenes experiences and revelations of a content expert? In this section, Patrick delves into his personal journey, sharing surprising lessons, the inspiration behind his initiatives, and even some of his favorite podcast recommendations. Get a glimpse of the human side of content design, the passion, and the challenges that come with it.
Question #15 from the audience
What was the one thing you learned during your content design career that you didn't expect to learn?
Patrick Stafford
CEO at UX Content Collective
An unexpected lesson I picked up in my content design journey was the profound importance and intricacy of content research and testing. I initially believed it would be straightforward to solicit feedback by directly inquiring about content perceptions. However, extracting meaningful insights requires more nuanced questioning to uncover discrepancies between user expectations and the presented content. It necessitates keen observation skills and the ability to interpret body language. Mastering this skill proves to be quite challenging!
Question #16 from the audience
What inspired you to co-found UX Content Collective, and what was the biggest challenge you faced in the process?
Patrick Stafford
CEO at UX Content Collective
I teamed up with Bobbie Wood to start the UX Content Collective after she reached out on LinkedIn about creating a UX writing course. Like many in the field, I kind of "fell into" the role and had to pick up a lot as I went. I wanted to help others skip some of the trial and error and offer a clearer path forward.

The toughest part was learning the difference between knowing something and teaching it. I gained a whole new respect for teachers; it's not easy. You might think that just giving people all the information would mean they'd understand, but that's not how it works. Creating learning materials is hard, but I think we've done a good job.
Question #17 from the audience
Patrick, we're aware you host a great podcast, but are there other industry podcasts you enjoy or recommend? Do mention yours too!
Patrick Stafford
CEO at UX Content Collective
Absolutely! I'm a fan of Kristina Halvorson's Content Strategy Podcast, especially a recent episode on AI. Nicole Michaelis' Content Rookie is another favorite. There's also Content Design With Friends, a newer podcast that discusses more than just UX writing.

And, of course, don't forget to tune into The Interface from UXCC!
Content Design principles and practices
Dive into the core of what it means to be a content designer with Patrick. From navigating the complexities of organizational dynamics to mastering the nuances of creating a standout portfolio, Patrick offers candid insights and actionable advice. Learn about the significance of building strong relationships, the intricacies of information architecture, and the pivotal role of staying updated in this fast-evolving industry. Whether you're a budding content designer or an experienced professional, this section offers a goldmine of knowledge and perspectives.
Question #18 from the audience
What should content designers do to get invited / have a seat at the table and get recognition for their work?
Patrick Stafford
CEO at UX Content Collective
I'd like to shift the perspective from "getting a seat at the table" to having people genuinely wanting your presence and input. Being in a room isn't productive if you're not genuinely wanted. Often, key decisions and relationships aren't even formed in meetings.

It's vital to identify key decision-makers and understand their organizational goals. Think of your role in content design as strategic. Engage in 1:1 discussions to demonstrate the value of content design. Your aim should be for stakeholders to realize your value and think, "shouldn't this person be involved?" Building individual relationships and understanding how you can add value is where I'd focus.
Question #19 from the audience
Do you believe information architecture can be applied to the scope of storytelling and sequencing of sentences within a UI dialog? Often, I see sitemaps of homepages representing information architecture. But, I think directing users to the right information should go beyond just the homepage menus. I'd love to hear your thoughts on this.
Patrick Stafford
CEO at UX Content Collective
Yes, I do think that information architecture needs to be considered even when writing a string or multiple strings. As content designers, we should always be mindful of where we're guiding the user and if that aligns with the overall IA. Spotting what doesn't fit within this structure can reveal some "cracks" in the system.

I agree that sitemaps or navigations are often equated with IA, but they have different, albeit related, approaches.

In my view, a design system should provide content guidelines that both inform and are informed by the IA. Content designers shouldn't be left trying to "fix" the IA through their content. If they find themselves constantly thinking about it, there's likely a bigger issue at play that needs addressing on a structural level.
Question #20 from the audience
What are some of the most common (and most harmful for us) misconceptions about Content Design and UX Writing that you've encountered among stakeholders in large organizations?
Patrick Stafford
CEO at UX Content Collective
One of the frequent misconceptions I've encountered is the notion that UX writing is something that can be swiftly executed. Many believe it's simply "sprinkling magic" on some copy, often relegated to the end of the process. While working at MYOB, an accounting software company in Australia, I would often find myself clarifying that crafting a concise string of just 20 characters that communicates multiple points isn't a quick task – it might take hours.

Democratizing the process can be a game-changer. By inviting stakeholders to partake in brainstorming sessions and co-writing exercises, they start to grasp the time and effort involved.
Question #21 from the audience
I came across a podcast from a well-known content designer who said it's very hard to go freelance compared to being a "copywriter". She said there are a lot more factors to consider that make it harder to scope. Would you agree?
Patrick Stafford
CEO at UX Content Collective
Absolutely, I do think transitioning to freelance as a content designer presents more challenges than being a copywriter. By its very nature, content design often requires collaboration within a design team. Working solo or with sparse resources can amplify these challenges. Hence, it's crucial for freelancers to embed themselves in an organization and prioritize relationship-building from the outset. Merely drafting UI text as a final step isn't a recipe for success in my opinion.
Question #22 from the audience
What top 3 work experiences, skills, and personal qualities do hiring managers typically seek in content designers?
Patrick Stafford
CEO at UX Content Collective
Great question. Everyone has their preferences, but when I've hired content designers, I've prioritized the following:

Design Process Comprehension: A clear understanding of the design process, coupled with the ability to articulate decisions at each step. It's not just about what was done, but the reasoning and data behind those decisions.
Receptive to Feedback: A capacity to receive and critically assess feedback, be it criticism or suggestions. The aim should always be producing the best design outcome, regardless of where the input originates - be it from a team member or someone like Dave, the front-end developer.
Eagerness to Learn: A genuine passion for acquiring new knowledge, techniques, and a willingness to tackle problems from fresh perspectives.
Question #23 from the audience
When it comes to portfolios, how long does someone typically spend reviewing one? I'm torn between the number of projects to showcase and the depth of detail to provide. Conventional wisdom suggests having a portfolio and "telling the story" through the process and rationale. Yet, this seems contradictory to the notion that recruiters often glance at application materials for just around 30 seconds. What's your take?
Patrick Stafford
CEO at UX Content Collective
It's indeed a challenge determining the right number of pieces for a portfolio. Instead of focusing on the quantity, I'd suggest ensuring the pieces you include address the main selection criteria specified in the job listing.

In terms of the time spent on a portfolio, it can vary. However, if your content is thorough and compelling, you might engage the viewer for a solid five minutes. I strongly recommend tailoring your portfolio for each application. Rearrange your case studies, infuse relevant keywords, and customize it to align with that specific job application.
Question #24 from the audience
As a senior in the UX community, what additional steps can one take to improve the experience for newcomers in content design? When have we done enough?
Patrick Stafford
CEO at UX Content Collective
One of the most valuable things seniors can do is teach newcomers how to demonstrate the impact of their work using testing methods. I've noticed many content designers struggle to connect their work to tangible outcomes. Collaborating closely with roles like UX researchers is vital in this aspect. It's essential to keep emphasizing the importance of this education.
Question #25 from the audience
How can one ensure their UX writing or Content Design take-home assignments stand out from the rest? What are the must-haves and the extras to include?
Patrick Stafford
CEO at UX Content Collective
To make your take-home assignments stand out, delve deeper than the task at hand. Discuss your comprehensive approach to the problem, detailing user assumptions, research methodologies, constraints, and more. For instance, when asked to design an alert for a weather app, consider questions like: Who are its primary users? How do they communicate? What are my assumptions and constraints at each step?

It's also beneficial to outline alternative approaches based on varying assumptions. For example, "Given assumption X, I chose approach Y. However, if X were different, approach Z would be more appropriate."

Always explain your thought process and be ready to defend your choices. A helpful resource for this is "Articulating Design Decisions."
Question #26 from the audience
How do you ensure you stay updated with developments and advancements in the field?
Patrick Stafford
CEO at UX Content Collective
Maintaining currency in the content design realm can be demanding. I set aside dedicated time each week just for reading relevant blogs, articles, and updates. Even allocating an hour weekly can be incredibly beneficial. Subscribing to industry newsletters is another effective strategy. I often schedule this reading time during periods when I predict lower energy, like Friday afternoons.
Final thoughts and takeaways
And that wraps up our deep dive into the world of content with insights from the CEO and co-founder of UX Content Collective. Throughout this enlightening Q&A session, we've traversed a spectrum of topics, from the nuances of career development and transitions, the tools and strategies pivotal to content design, to the intriguing blend of AI with content and the essence of design thinking.
Patrick's multifaceted experience, from being a UX writer and content designer to hosting podcasts, has enriched this session with profound insights. He's underscored the significance of storytelling, the art of resonating with readers, and the imperative of staying agile in the fast-paced content scene.
His wisdom, drawn from years of experience, is invaluable for both newcomers and veterans in the content domain. As the content landscape continues to evolve and reshape, the insights from this session act as our beacon, illuminating our path towards creativity, adaptability, and excellence.
Patrick's insights have given us a lot to think about. Let's put them to good use and continue to create content that resonates.