Introduction
Job descriptions are not as easy to put together as people might think. And for content roles, you're writing to people who are content creators themselves, so you need to appeal to them, and show some personality, while still covering all the vital information and business needs.
In this article we deconstruct adverts for Content Director roles from two well-known companies, and we've created a free template for you to build on when creating your own.
To give you an understanding of the Content Director role, we'll define it first.
Then we'll see what job descriptions from Headspace and Lego look for in candidates.
Things like:
What they offer in terms of salaries
Key responsibilities
Qualifications and skills
Benefits, workplace experience and culture
Diversity and inclusion statements
We've also included some comparative analysis of the two job descriptions.
Let's dive in.
What is a content director?
A content director is responsible for executing and overseeing content strategy. They need creative vision, collaboration skills, the ability to understand and work with stakeholders, and the ability to see the big picture for this role.
In some organisations this role is effectively the same as a creative director. Candidates are accountable to deliver content that is engaging, meet KPIs, metrics, and drive revenue through content.
What to include: Examples from Headspace and Lego
Now let's break down two examples of job descriptions from Headspace and Lego We'll cover all the key areas such as salary, responsibilities, key skills and qualifications, as well as some deeper comparative analysis further down the page.
Salary
Showing the salary that you're willing to pay in a job description is crucial for many reasons. Transparency promotes trust, as well as being important for diversity and inclusion. Show the Pay say on their website:
"Diversity and bias are key issues in recruiting. But when you don't say what you are willing to pay in a job advert, you are being exclusive and continuing to perpetuate and widen the gender, ethnicity and ability pay gaps."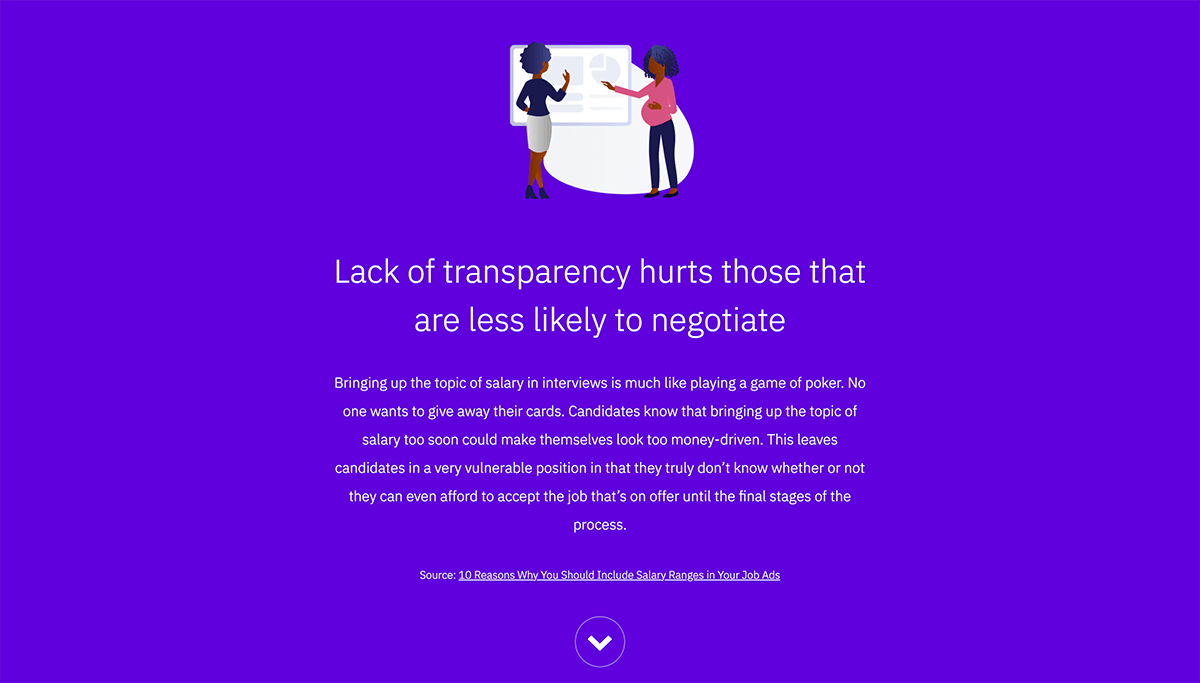 Side note: All content director jobs that share pay details on our site are highlighted by a green dollar symbol to bring attention to this.
Neither Headspace or Lego specify their salary in the job description. Although they both do have some other really good key points. (Their diversity and inclusion statements themselves are great examples).
The Headspace role is in London (Remote), and the Lego role is in Billund, South Denmark.
While the data is sketchy for these roles, we have used LinkedIn, PayScale and Glassdoor to find out averages for a Content Director role in these locations where we can.
Salaries are great in Denmark (we found this report on salaries in Aarhus, however there is only data for a copywriter). And we have had to use a Creative Director role for Denmark, but as we'll discuss later in this article, a Content Director can sometimes function as (or similar to) a Creative Director.
| Content Director Salary | |
| --- | --- |
| UK Average | Average: £60k/yr, range: £35k - £90k |
| London Average | Average: £65k/yr, range: £38,400 - £91,400 |
| Headspace | No data available for Content Director role |
| Denmark average (Creative Director salary, per month) | 39,300 DKK per month, range: 18,900 DKK - 61,700 DKK |
| Lego | No data available for Content Director role |
Typical responsibilities
Here is a quick breakdown table of typical responsibilities and criteria for the role of Content Director so you can make sure you are hitting all the key points in your content job description.
We've grouped them into key areas, and you can see which have been included from Headspace and Lego. The Headspace role is for a Content Director (which for them is more akin to a Creative Director). And the Lego advert is for an Editorial and Content Director.
Both are Senior / Leadership roles which is reflected in the responsibilities and qualities required. The Headspace role has a specific focus on international, too.
| Responsibilities | Headspace | Lego |
| --- | --- | --- |
| Implementing a content strategy | ✅ | ✅ |
| Delivering high quality content from concept to production (storytelling) | ✅ | ✅ |
| Working with a range of digital formats | ✅ | ✅ |
| Thinking about user experience and usability, accessibility, writing for the web, and meeting user needs with content | | |
| Partnering with other teams, such as data and marketing | ✅ | ✅ |
| Stakeholder management and relationship building - internally and externally | ✅ | ✅ |
| Driving reach, reputation and revenue with content | ✅ | ✅ |
| Adapting existing content for new geographical locations | ✅ | ❌ |
| People management - support recruit, supervise, train and mentor team members | ✅ | ✅ |
| Maximizing efforts on strategic vision, budget tracking and resource allocation | ✅ | ✅ |
Qualifications, skills and attributes
Now onto skills and qualifications. We've added details such as how many years' experience where the data is available. You'll see that as these are Senior roles, the years' experience required is high, and the sorts of qualities they look for are from somebody who is well-versed and professionally developed in content. They ask for:
Qualifications, skills and attributes
Headspace
Lego
Experience

8-10 years of experience working in media/new media.
5+ years of experience in production and/or creative direction.
Experience in adapting creative across multiple geographies

Minimum of 10 years experience in editorial and content leadership role within in a media and interactive landscape
Minimum of 10 years experience working within or with a marketing organization
Previous experience working in a large matrixed organization

Bachelor's Degree
❌
❌
Educated to Master's level or with equivalent professional qualifications and experience
❌
❌
Languages

Bilingual in English and German.
Strong language skills in French, Spanish and/or Portuguese would be a plus.

Excellent level of English both verbal and written
Accountability
✅
✅
Innovative and creative
✅
✅
Clear vision
✅
✅
Leadership
✅
✅
Strong network and experience resourcing projects
✅
✅
Detail-oriented
✅
✅
Strong communicator
✅
✅
Ability to influence stakeholders
✅
✅
Creative problem solving
✅
✅
Ability to multi-task and juggle several workloads
✅
✅
Excellent planning and organisation skills
✅
✅
Strong interpersonal skills, team building and collaboration
✅
✅
Working well under pressure in a fast-paced digital environment
✅
✅
Proven track record / portfolio of projects from concept to completion
✅
✅
Benefits
Here we will look at the benefits offered by each company. When creating your job description, think about deeper, meaningful benefits like company culture and support networks.
Neither company has included benefits in their job descriptions. This may be because they are Senior roles and so therefore more thought and more of the word count has had to go into the overall summary and details.
That said, we still think it's important to include benefits where you can. This is so you can give candidates a full picture of the company they are applying to, and the culture.
We have found benefits for both Headspace and Lego online where we could. We've used the company websites (although not much information is on there) as well as Glassdoor and this article on Headspace's benefits to give you a more comprehensive view. This isn't an exhaustive list but hopefully should give you a fairly rounded picture.
| Benefits | Headspace | Lego |
| --- | --- | --- |
| Medical / dental / vision benefits | ✅ Fully paid healthcare | ✅ |
| 401K plan | ✅ | ✅ |
| Performance bonus | ✅ | ✅ |
| Commitment to health, mental health and wellbeing | ✅ | ✅ |
| Childcare vouchers | ✅ | ✅ |
| Gym membership | ✅ | ✅ |
| Catered lunch | ✅ | ✅ |
| Season ticket loan / travel pass | ✅ | ✅ |
| Discounts including things like shops, restaurants, gym etc | ✅ | ✅ |
| Training and career development | ✅ | ✅ |
| Sick pay | ✅ | ✅ |
| Paid paternity, adoption and maternity leave | ✅ | ✅ |
| Flexible working (which may include part-time hours, job shares, flexible hours and part-remote set ups) | ✅ | ✅ |
| Annual leave / paid time off | ✅ Unlimited vacation policy | ✅ |
Diversity and inclusion
Diversity and inclusion as we've talked about already is crucial to be aware of when writing job descriptions, with many organisations now making a conscious effort to ensure they are hiring fairly and diversely.
Despite this, many still fail to include a diversity and inclusion statement in their job descriptions. Not only this, but often we see job descriptions that are laid out in a way that isn't very user-friendly, with lack of bullet points and walls of text.
Ideally, you should also make reference to reasonable adjustments and accommodations being available to candidates throughout the selection process, as this is a required for diversity and inclusion.
That said, it shouldn't just be a tick-box exercise. Be sincere about your commitment to diversity and inclusion by using positive language and creating your own statement, rather than just copy and pasting one.
Headspace
Headspace have an excellent diversity and inclusion statement in their job description. And they have weaved in their approach through the language and tone of voice they use throughout. It's clear a human has written this and it's not just copied and pasted, and it really shows off their company culture.
"How we feel about Diversity & Inclusion:
Headspace is committed to bringing together humans from different backgrounds and perspectives, providing employees with a safe and welcoming work environment free of discrimination and harassment. We strive to create a diverse & inclusive environment where everyone can thrive, feel a sense of belonging, and do impactful work together. As an equal opportunity employer, we prohibit any unlawful discrimination against a job applicant on the basis of their race, color, religion, gender, gender identity, gender expression, sexual orientation, national origin, family or parental status, disability*, age, veteran status, or any other status protected by the laws or regulations in the locations where we operate. We respect the laws enforced by the EEOC and are dedicated to going above and beyond in fostering diversity across our workplace.
*Applicants with disabilities may be entitled to reasonable accommodation under the terms of the Americans with Disabilities Act and certain state or local laws. A reasonable accommodation is a change in the way things are normally done which will ensure an equal employment opportunity without imposing undue hardship on Headspace. Please inform our Talent team if you need any assistance completing any forms or to otherwise participate in the application process."
We can see that Headspace talk about not just diversity and inclusion obligations, but that they strive to go "above and beyond" and create a positive and inclusive workplace culture. They then go on to actually explain terms such as what 'reasonable accommodation' means in terms of disabilities in the hiring process.
Lego
The lego statement is also another great example, as it's not just generic but tailored to fit the context of the role. They start off with"join the global Lego family" and their values, and how they want to create a safe, belonging space for employees.
"Join the global LEGO® family
Children are our role models. Their curiosity, creativity and imagination inspire everything we do. We strive to create a diverse, dynamic and inclusive culture of play at the LEGO Group, where everyone feels safe, valued and they belong.
The LEGO Group is proud to be an equal opportunity and an affirmative action employer. We are committed to equal employment opportunity regardless of race, colour, ancestry, religion, sex, national origin, sexual orientation, age, citizenship, marital status, disability, gender identity or Veteran status.
We support our employees in being there for the moments that matter in life and celebrate families of all kinds, the loved ones that make us who we are. Being part of the LEGO Group also means taking part in our annual Play Day, playing a part in building a sustainable future and continuing our mission to "inspire and develop the builders of tomorrow."
It's good to see a focus on family which carries over into their employee values and company culture, and it's again in the context of the job description, and written with the candidate reading in mind.
Highlights: comparing and analysis to inspire your job description
Finally, in this section we've pulled out some key quotes, done some analysis and compared the two job descriptions even further. This should help you gain a deeper understanding of what the role of Content Director for these two organisations entails, and what companies ask for. We've also included links to docs with the full adverts if this is helpful.
Headspace
Content Director
For their International Content Director role, Headspace say that
"Externally, this position is equivalent to a Creative Director" so it is expected that the salary would be quite high (although it doesn't say) and responsibilities to match this.
They kick off the job description with:
"As we expand to become a truly global brand, it's important that we maintain the level of excellence in content for which we are famous. The role of the Content Director will lead the content creation process in multiple countries beyond the English-speaking world."
From the outset, it is clear that this position is international, and aside from needing somebody who is bilingual (as stated in the table), candidates also need:
"An in-depth understanding of multiple International cultures especially Germany, France, Spain and Australia is crucial. This role is based out of England."
The job looks like it is heavily focused on collaboration and partnering with different teams such as the data team, and the international marketing team, to ensure content is marketed correctly to local cultures.
It also includes things like securing native speaking and creative talent for the app.
"Working with artists, musicians, and voice over talent you will curate, program, and commission content for our international products, including meditation teachers, sleepcasts and more."
An interesting part of the job description is when they say they need somebody who can:
"identify the "active-ingredient" in our existing content, and work out how to frame that in new geos - think, trans-creation, rather than translation."
So they are wanting to keep the brand consistent across channels and locations.
In terms of content strategy, they are looking for:
"an expert in creating world-class digital content. This person will be highly collaborative, detail-oriented and a strong communicator, working cross-functionally with internal stakeholders to maximize efforts and with our Head of Content on strategic vision, budget tracking and resource allocation."
They need somebody who can
"work with the product to make sure that the content is properly accessible and organized within our app to maximize engagement."
When it comes to personality traits they are looking for leadership qualities, and they say:
"To be successful, this Content Director should be comfortable in ambiguity, enjoy problem solving, have a POV and a clear creative vision."
Headspace also have a really nice way of phrasing the headings of their sections - for example:
For the responsibilities section they say "How your skills and passion will come to life at Headspace"

For the experience and skills part, they say "What you've accomplished"
Here is a link to the full job description for Headspace
Lego
Content Director
This is an English speaking role in Denmark for an Editorial and Content Director. While similar to the Headspace role, and a global brand, there isn't as much focus on international. And while the Headspace role is akin to a Creative Director, instead, the focus is more geared towards content strategy. This role is, in some ways, similar to that of a content strategist.
The job description is well-laid out and easy to read. After introducing the advert, they kick off the core responsibilities section with:
"As the Director of Editorial and Content you will be responsible for leading the editorial and content strategy and teams across the kids and family digital ecosystem."
They also go on to say:
"You are uniquely placed within the Product and Marketing group to provide a center of excellence and a deep understanding of innovative and relevant content"
We've picked out some key parts that are to do with overall responsibilities, and grouped them together. The chosen candidate will:
"Own the Editorial and Content strategy for Kids, Cross Audience and Family Engagement (KECAFE) initiatives across the LEGO® ecosystem, within the Digital Consumer Engagement Division."

"Be the point of contact for editorial storytelling across Kids and Family engagement."

"Lead innovation and best-in-class editorial and content strategy and implementation throughout the LEGO® digital ecosystem touchpoints."
Again, for this role, like Headspace's Content Director role, there is a focus on collaboration, communication across departments and stakeholder management. As well as leadership, influence and mentoring.
In terms of personality, they say:
"To thrive in this position, you love working in the area, where creative ideation meets execution excellence. Being an awesome leader and teammate you easily communicate to partners, involving your colleagues across functions."
And they need somebody who can:
"Influence alignment and collaboration with other editorial & content-led teams across the LEGO Group e.g. Social Media."
"With a focus on quality, innovation and efficiency, ensure the best solutions for stakeholders."
Ultimately, Lego are looking for an Editorial and Content Director who can:
"Drive reach, reputation and revenue through ongoing engagement within and kids' and parents' digital touchpoints in the ecosystem, aiming to delight recruit and retain audiences."
Here is a link to the full job description for Lego
Next steps: Writing your job description
Hopefully this article has given you an idea of some of the similarities and differences between the two Content Director job descriptions, and some inspiration for writing one of your own. If you need help with this, download our free template:
Free template download
Use this Content Director Job Description Template as a base, or to inspire your own. It's comprehensive and includes example excerpts discussed in this article.