Introduction
Writing the perfect content job description is not easy. There's a lot to think about in terms of what to include, and how to phrase it. You need to write in a way that is in line with brand tone of voice, and business needs. As well as making it accessible for candidates, with no surprises further down the line.
In this article we look at two Content Specialist job descriptions, and we've created a free job description template for you to build on.
Hopefully you will come away with some inspiration for key elements to include, and how to attract the right candidates, with diversity and inclusion in mind.
To give you an understanding of the Content Specialist role, we'll define it first.
Then we'll see what job descriptions from EY and Tesla look for in candidates.
Things like:
What they offer in terms of salaries
Key responsibilities
Qualifications and skills
Benefits, workplace experience and culture
Diversity and inclusion statements
We've also included some comparative analysis of the two job descriptions.
Let's dive in.
What is a content specialist?
A content specialist is similar to a content strategist. You need excellent storytelling skills, writing and editing and project management skills. The role can vary greatly depending on the company and industry, but generally content specialists will own the content lifecycle management from ideation, creation and editing through to approvals, distribution, measurement and maintenance, develop a content strategy, and manage teams of writers.
What to include: Examples from EY and Tesla
Now we'll break down two examples of job descriptions from EY and Tesla, so you can see what sorts of things you should be covering in yours.
Salary
Showing the salary is an important best practice for many reasons. Transparency promotes trust between candidates and employers, and also promotes diversity. For more details on why you should be clear about salary, check out Show the Pay.
Side note: All content design jobs that share pay details on our site are highlighted by a green dollar symbol to bring attention to this.
Many companies still don't though, and neither EY or Tesla job description show the pay directly.
The EY role is in Toronto, Canada and the Tesla Role is based in Fremont, California.
While the data is sketchy, we have used LinkedIn, PayScale and Glassdoor to find out averages for a Content Specialist role in these locations. We have had to use a European estimate for EY (Digital Content Specialist role) as no other data was available.
| Content Specialist Salary | |
| --- | --- |
| US Average | Average: $50,000/yr, range: $32,100 - $74,800 |
| California Average | Average: $51,456/yr, range: $36k - $84k |
| Tesla | No data available for Content Specialist role |
| Canada Average | Average: CAD $58,978/yr, range: CAD $29,250 - $79,705 |
| Toronto Average | Average: CAD $50,501/yr, range: CAD $39k - $65k |
| EY | Range: €52,661 - €56,938/yr (Digital Content Specialist role) |
Typical responsibilities
Here is a quick-reference table of typical responsibilities and criteria for the role of Content Specialist so you can make sure you are hitting the right marks.
We've categorised them into key themes, and you can see which have been included from EY and Tesla, and what they ask for. The EY role is for a Brand and Content Specialist specifically, and the Tesla role is for a Content Specialist.
| Responsibilities | EY | Tesla |
| --- | --- | --- |
| Reporting to | Assistant Marketing Director - Brand, Content and Social | Not specified |
| Hands-on content creation | ✅ | ✅ |
| Thinking about user experience | ✅ | ✅ |
| Taking ownership for quality and accuracy | ✅ | ✅ |
| Managing content within the content management system (CMS) | ✅ | ✅ |
| Full web content production lifecycle, including scoping out content requirements, production, testing and ongoing management/refinement | ✅ | ✅ |
| Partner with other teams to optimize content for managing and publishing | ✅ | ✅ |
| Localization of global web content | ❌ | ✅ |
| Different content formats / multimedia / digital channels and platforms | ✅ | ✅ |
| Content standards, style guides, compliance, voice and tone | ✅ | ✅ |
| Developing and implementing an overarching content strategy | ✅ | ❌ |
Qualifications, skills and attributes
Now onto the next section. Here, we've added details such as how many years' experience is needed where the data is available, degrees and qualifications, as well as personality attributes and key skills/competencies.
| Qualifications, skills and attributes | EY | Tesla |
| --- | --- | --- |
| Experience | 5+ years of experience working in creating high-quality content and strong familiarity with video content creation, blogs, social media content, case studies, infographics, reports and more. | 2-4 years experience in a similar content management/digital production role for a global website |
| Bachelor's Degree | ✅ | ❌ |
| Educated to Master's level or with equivalent professional qualifications and experience | ✅ | ❌ |
| Knowledge of basic HTML | ❌ | ✅ |
| Working knowledge of SEO and social media | ✅ | ❌ |
| Experience in brand management | ✅ | ❌ |
| Eye for detail | ✅ | ✅ |
| Working well under pressure in a fast-paced environment | ✅ | ✅ |
| Go above and beyond to meet deadlines | ✅ | ✅ |
Benefits
Next we will list some of the benefits offered in each job description. Some job descriptions don't list benefits in the advert, and we think this is a mistake because candidates tend to be swayed or even more interested if there's a good benefits package - particularly if there are deeper benefits such as work/life balance or company culture.
This isn't an exhaustive list. Tesla hasn't included any benefits in their job description, and EY haven't included all of their key benefits. So we have also used Glassdoor and Payscale, and the EY careers page to give you a more comprehensive view.
| Benefits | EY | Tesla |
| --- | --- | --- |
| Medical / dental / vision benefits | ✅ | ✅ |
| Pension | ✅ Matched employer pension contributions of up to 6% | ✅ |
| Childcare vouchers | ✅ | ✅ |
| Cycle to work scheme | ✅ | ✅ |
| Season ticket loan | ✅ | |
| Discounts including things like shops, restaurants, gym etc | ✅ | ✅ |
| Free lunch and snacks | ✅ | ✅ |
| Annual leave / paid time off | ✅ 27 days annual leave, plus a buy and sell annual leave scheme | ✅ Unlimited vacation policy |
| Sick pay | ✅ | ✅ |
| Flexible working (which may include part-time hours, job shares, flexible hours and part-remote set ups) | ✅ | ✅ |
| Access to internal networks and communities | ✅ | ✅ |
Diversity and inclusion
Diversity and inclusion is a no-brainer in your content job description. You need to comply with things like Reasonable Adjustments for disability, both at work and throughout the hiring process.
But many companies still miss them out. And it's a learning process for many. You need to include a diversity and inclusion statement in your description, as well as carefully considering the language you use (e.g. not gendered or biased) and being sensitive to other protected characteristics.
It's also important to make your job ads engaging and descriptive, but also readable, accessible and in plain language. That means no jargon or unexplained terms, or design / formatting that would be difficult for somebody with a screen reader or other disability aid to access.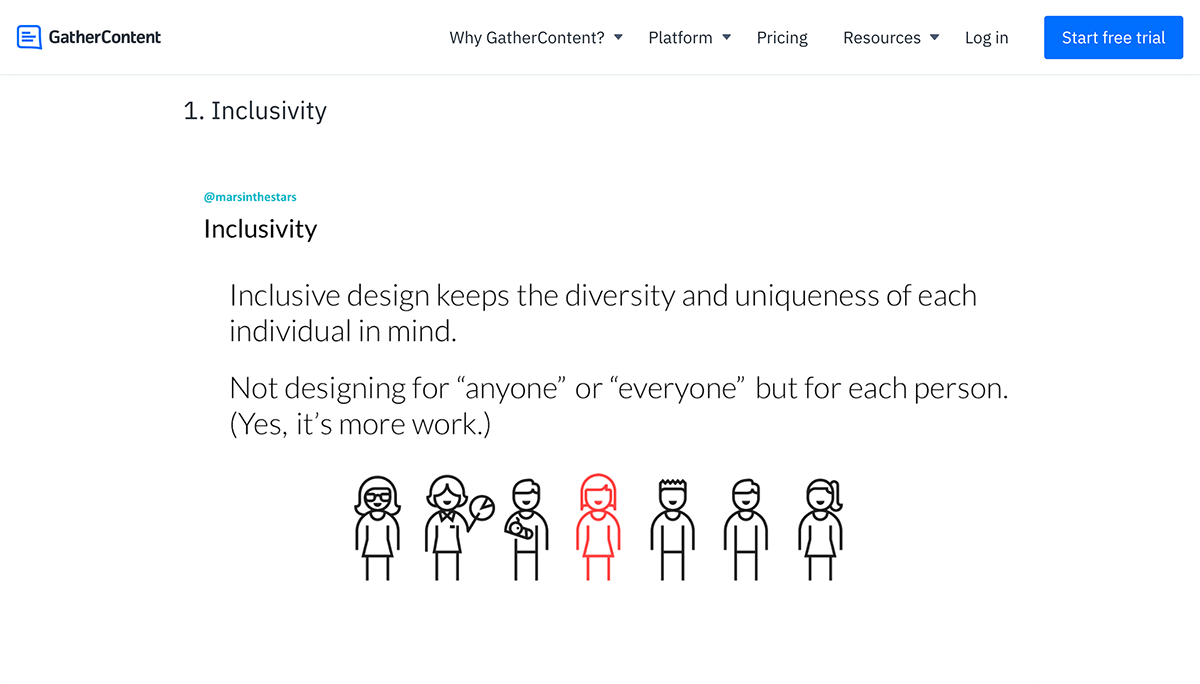 EY
Here is an example of the of diversity and inclusion statement from EY:
"EY is committed to inclusiveness, equity and accessibility. We encourage all qualified candidates to apply."
Although they have included a statement, it is short and sweet (a little too short). They perhaps could have included some information about reasonable adjustments throughout the hiring process.
EY have recently been part of diversity and inclusion case studies, so it is surprising they have said so little in the job description. They have, however, got a diversity and inclusiveness section on their website. It reads:
"Diversity and Inclusiveness are not "nice to haves." They are business imperatives. Diverse perspectives, combined with an inclusive culture, drive better decision-making, stimulate innovation, increase organizational agility and strengthen resilience to disruption."
"Inclusive organizations maximize the power of all differences and realize the full potential of all of their employees. This minimizes blind spots, and encourages truly innovative thinking. Learn how creating and maintaining a culture of diversity and inclusiveness can help your organization sustain long-term success in today's global marketplace.
"To demonstrate our commitment, the Global Executive (GE) has signed the EY GE D&I statement, which underscores our increased focus on diversity and inclusiveness."
Tesla
Tesla recently published their 2020 Diversity, Enquiry and Inclusion Impact report, which showed they could be more diverse with employment - particularly for female employees and females in leadership.
There is no statement on their job description, but they have made their intentions for the coming years clear in the report. In terms of being a usable and accessible piece of content, the job description is generally very minimalist, easy to read and understand.
Highlights: comparing and analysis to inspire your job description
In this section we deconstruct the two job descriptions, and give some comparative analysis. This should help you gain an even better overall sense of what the role of Content Specialist entails, and what companies ask for. We've also included links to docs with the full adverts if this is helpful.
This is, as to be expected from a company like EY, an absolutely brilliant job description. So much so that we've had to show restraint on how long to make this section because there is just so much great content in there.
It's detailed, but also relevant and to the point. They have included emojis at the start of the job description to show that it is in Toronto, and that it's a Core Business Services role.
This is for the role of "Brand and Content Specialist", and this specificity is key here. But the candidate for the role needs to be able to wear many hats and multitask. This seems to be a Senior role, and is quite similar to a Content Strategist. It's about seeing the big picture and
"understanding of how content marketing for digital and social channels fits into the larger marketing and firm ecosystem."
They kick off with talking about the type of person they are looking for. They've used some nice language to describe what content means to the organisation, which shows they are serious about hiring content experts:
"Content matters, and storytelling, even more. We're on a digital transformation journey and are ready to make some real noise in the market. We're looking for a tech-savvy trendsetter with expertise in brand management, content marketing in highly digital environments."
Proactive teaming and collaboration is a key part of this role. And as well as reporting to the Assistant Marketing Director for Brand, Content and Social, the candidate will also work with:
Other members of the larger EY Canada Brand, Marketing and Communications team
Social Media Lead
Other internal teams and leaders
Global and Americas counterparts
The Content Strategy elements and Brand focus of the role are evident. They need someone who can
"Plan, manage and execute foundational brand programs to support the firm's visibility in the part, in alignment with national and global priorities and initiatives"
And
"Develop and implement an overarching content strategy that aligns to our firm's business goals and connects the dots between our internal and external audiences, identifies clear objectives for all content and includes clear, measurable KPIs."
As to be expected then, there are lots of content strategy terms cropping up. The candidate will:
"create, package and distribute thought leadership content in various formats across channels, using best practices, new strategies and actionable insights that have measurable impact on enhancing brand perceptions and driving funnel growth."
Other elements of content strategy include:
Content resource allocation
Managing and socialising an editorial calendar
Conducting regular content audits
maintain a central content repository
proactively identifying gaps and priorities in content execution
Project management
Stakeholder management
Style guides brand voice
Leadership skills are important, and they want somebody who has a "passion for overcoming the status quo".
Here is a link to the full job description for EY.
Tesla
Content Specialist
As a massive difference between the two job descriptions, Tesla's is so succinct that we can analyse the whole thing. It is perhaps a bit too brief, and could definitely benefit from including employee perks, some more information about the company and some more personality.
That said, it kicks off with an on-brand heading:
They start off with a brief synopsis of the role:
"We are looking for a Content Specialist to join our growing digital team based in Fremont. This person will be responsible for optimizing, publishing and maintaining high-quality content across our global websites, ensuring that visitors to our site have a seamless and positive user experience."
So this role is part of the digital team. And while there are elements of content strategy, and a focus on user experience, this seems more like an entry level role into content strategy.
There is a mix of strategic and practical work. And, there is a focus on localisation of global content, similar to the EY role. They say the person they want to hire will:
"Strategize, implement and maintain content management solutions for managing localized content
And
"Support localization of global web content and quality of translations.'"
In terms of content production, there is both creation and management. They need somebody who can:
"Proactively manage content within the content management system and take ownership for quality and accuracy"
As well as
"Participate in the full web production lifecycle, including scoping out content requirements, production, testing and ongoing management/refinement."
And
"Manage the asset management system and set standardization for integration with the content management system."
There is a focus on collaboration and optimising content again, as there is in the EY job description. And the chosen candidate will
"Partner with software engineers, product managers, business stakeholders, UX designers and other teams to optimize content for managing and publishing."
Finally, for the requirements, they are looking for somebody with:
"2-4 years experience in a similar content management/digital production role for a global website
Experience in a content management system and localization of content"
So the global / local element is really important, like in the EY role.
They also ask for:
Knowledge of basic HTML
Eye for detail, even under pressure
Ability to work in a fast-paced environment and go above and beyond to meet deadlines
Here is a link to the full job description for Tesla
Next steps: Writing your job description
Hopefully this article has given you an idea of some of the similarities and differences between the two job adverts, and some inspiration for writing a Content Specialist job description. If you need help with this, download our free template:
Free template download
Use this Content Specialist Job Description Template as a base, or to inspire your own. It's comprehensive and includes example excerpts discussed in this article.